DUI and Sleeping in a Vehicle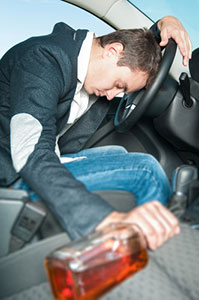 In some DUI offenses the arresting officer may not actually observe any driving conduct. The suspected driver may have been involved in a DUI collision or there may only be circumstantial evidence that a person had been driving while under the influence of drugs or alcohol. In these cases, the People may be unable to establish that the defendant was actually driving while intoxicated. This issue often comes up in Los Angeles DUI offenses where a suspect is found sleeping in a motor vehicle.
Volitional Movement Standard
In California, in order to be convicted of a DUI offense, there must be evidence of "volitional movement." This means that simply sitting or sleeping in a vehicle is not, per se, illegal in California. This is not the case in other states in which a defendant can be convicted of a DUI offense if they merely exercise control over a vehicle.
In many Los Angeles cases, proving volitional movement is straightforward. The arresting officer may have pulled the driver over after observing the driver commit a traffic violation and could testify regarding the defendant's driving conduct. However, there are other cases where volitional movement must be proven by circumstantial evidence. This includes cases involving DUI collisions where the defendant was involved in an accident and there are no witnesses who observed the defendant actually driving. This would also apply in cases where a defendant is found sleeping in a vehicle. In order to convict a defendant of DUI, the police and prosecution would need evidence of volitional movement and evidence that the driver was actually under the influence at the time of driving.
Issues in with Sleeping in a Vehicle
In California, merely sleeping in a vehicle while under the influence is not a DUI offense as long as there is not evidence of driving or volitional movement. It is important to remember that even if sleeping in a vehicle may not be DUI, a driver could potentially be charged with drunk in public in violation of California Penal Code Section 647(f) PC.
The prosecution may try to prove that a defendant was driving under the influence even where he or she is found asleep or passed out in a vehicle. There may be direct evidence of recent driving activity, such as witness statements or the driver's own admission that he or she had been driving after drinking. The police will also look for circumstantial evidence of recent driving, such as a warm engine, or if the car is on and in gear when the police arrive. If there was an accident, the Los Angeles police may look for evidence that the DUI suspect was the driver, such as the position of the seat, lack of other individuals at the scene of an accident, or the placement of bruises or other injuries indicative of someone being in the driver's seat.
When Did Drinking Occur?
In some cases, the police may find open or empty containers of alcohol in a DUI suspect's vehicle. This can be used as evidence of recent drinking, however the defense may be able to show that the defendant was actually drinking in his or her vehicle after driving, which is still a violation of the open container laws but is not a DUI offense.
If you or a loved one was arrested for a DUI incident in which sleeping in a vehicle was involved, it is imperative that you speak with a skilled Los Angeles DUI lawyer as soon as possible. As a former Deputy District Attorney with over 14 years of prosecutorial experience, Michael Kraut understands how to effectively litigate complicated DUI issues in order to best serve his clients.
For more information about DUI and sleeping in a vehicle, and to schedule your free consultation, contact Michael Kraut at the Kraut Law Group located at 6255 Sunset Boulevard, Suite 1520, Los Angeles, CA 90028. Mr. Kraut can be reached 24/7 at 888-334-6344 or 323-464-6453.