Los Angeles Parked Car DUI
Los Angeles DUI Attorney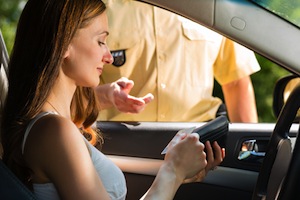 In California, driving under the influence is a criminal offense that can result in a conviction and a driver's license suspension. One of the key elements of this offense is that the defendant was actually driving a vehicle. However, in many DUI prosecutions there may not be direct evidence that the defendant was driving at all. In some cases, the defendant may be arrested and charged with DUI while in a parked vehicle. Many drivers ask whether or not they can be charged with a DUI offense while in a parked vehicle.
While some states can convict a driver of DUI for merely exercising control over a vehicle, California has a higher standard and requires proof that the defendant was actually driving before he or she can be convicted of DUI. This means that a driver simply sitting in the driver's seat of a parked vehicle will not be considered driving, even if he or she has the keys in the ignition and the car turned on. In other states, this could be enough to charge a defendant with DUI. Under the Mercer v. Department of Motor Vehicles decision, there must be proof of volitional movement in order for a defendant to be convicted of a DUI offense.
This does not mean that an officer or other witness must actually observe someone driving in order for that person to be criminally liable. In many cases, an officer will establish that the defendant was driving through circumstantial evidence. In some cases, the officer will respond to an accident in which the DUI suspect was driving and will establish through witness statements, physical examinations of the collision scene and even the suspect's own admission that he or she was driving the vehicle at the time of the collision. In other cases, a driver may be passed out in the middle of an intersection or at a restaurant drive-through line. In these cases, the officer may determine that the suspect had been driving under the influence. Other circumstantial evidence used to show that a person was driving include evidence of a warm engine, warm tires, keys in the ignition, a transmission in drive and the lack of an alternative driver or credible explanation from the suspect.
In some cases, the police may observe a person who appears intoxicated and watch them get into his or her vehicle. The police will wait for the driver to start the vehicle and begin to drive away and will then immediately pull the driver over based on the officer's observations of the driver before getting into the car. The officer does not have to wait until a driver is on the road and endangering others before he or she can perform a vehicle stop.
In some cases, prosecutors and judges may treat a DUI driver who was stopped in a parked vehicle less harshly than a driver who was exhibiting dangerous driving conduct while on the road. However, prosecutors and judges are very concerned with drivers who may have passed out while under the influence as these drivers can potentially be extremely hazardous to others on the road. These defendants may be treated more harshly.
If you have been charged with a DUI offense and do not believe that you were actually driving at the time of the incident, it is critical that you speak with a Los Angeles DUI Lawyer as soon as possible. Los Angeles DUI Attorney Michael Kraut is a former Deputy District Attorney with over 14 years of prosecutorial experience who understands how to effectively argue DUI defenses both in court and before the DMV.
For more information about Los Angeles parked car DUI, and to schedule your free consultation, contact Los Angeles DUI Lawyer Michael Kraut at the Kraut Law Group located at 6255 Sunset Boulevard, Suite 1520, Los Angeles, CA 90028. Mr. Kraut can be reached 24/7 at 888-334-6344 or 323-464-6453.