Open Container
Open Container Laws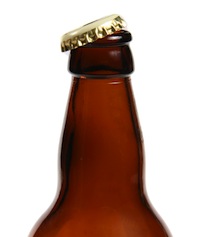 California has a series of laws on the books that are commonly referred to as "open container" laws. These statutes address the act of driving or riding in a car in which there is an open container of alcohol. Below are some of the various open container laws:
California Vehicle Code Section 23221 addresses drinking alcohol in a car.
California Vehicle Code Section 23222(a) concerns possession of an open container in a car.
California Vehicle Code Section 23224 involves possession of an open container by an individual under the age of 21 years of age.
California Vehicle Code Section 23225 addresses storage of open containers in a trunk.
California Vehicle Code Section 23226 deals with keeping open containers in the passenger compartment of a vehicle.
California Vehicle Code Section 23229 discusses exceptions for hired vehicles such as limousines or buses and residential vehicles like RVs and campers.
An open container is an alcoholic beverage which is open and exposed, clearly has a broken seal, or has been partially consumed. It is important to remember that it does not matter if you are a driver or are a passenger, or if you were drinking the alcohol. Merely having an open container in a vehicle is enough to satisfy the statute. Of course, a prosecutor must prove that you actually possessed the open container and you did so knowingly, which can be difficult if there are numerous passengers in a vehicle.
This offense is classified as an infraction and is punishable by a $250 maximum fine. However, if you are a minor driver or passenger, you will be charged with a misdemeanor and face up to six months in jail and a $1,000 maximum fine.
There are several complete defenses that can be raised in response to open container charges. Keeping the open container in the trunk of your car is a complete defense. If you have a vehicle without a trunk, such as a pick-up truck, having the open container in an area not usually accessible, such as the bed of the truck, would satisfy this defense.
Additionally, if the open container was found in a bus, taxi, limousine, RV or camper, neither the driver nor passenger can be prosecuted under California open container laws. Passengers in these types of vehicles are allowed to drink (provided that they are 21 or over and have no legal alcohol restrictions). Drivers, of course, are not allowed to drink. However, if any passenger is under 21, the open container prohibition applies and open container are allowed only if properly stored and secured.
Furthermore, if the arresting officer lacked probable cause to stop or further search the vehicle, any open container can be excluded as a violation of the United States Constitution's 4th Amendment protection against unreasonable search and seizure. Such evidence would be considered prohibited and could not be used against you in any subsequent prosecution.
Because of the many defenses and legal challenges that may be available to you, it is imperative that you have an experienced and aggressive attorney fighting on your side. Attorney Michael Kraut is the Managing Attorney of the Kraut Law Group and is a former deputy district attorney. He was educated at Harvard Law School and works tirelessly for his clients to achieve the best results possible. Mr. Kraut will aggressively defend your case and leave no stone unturned to ensure you have the best defense possible. Contact an experienced Los Angeles open container defense attorney today to set up a free consultation by calling (323) 464-6453.