Beverly Hills Dui With Drugs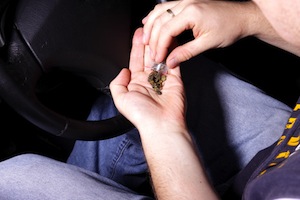 Driving a vehicle while under the influence is a crime in Beverly Hills whether the intoxicating substance involved is alcohol or drugs. While people usually associate DUI with drunk driving in Beverly Hills, it is very possible to be charged and convicted of driving under the influence of drugs/narcotics. A conviction for this offense can carry its own unique set of consequences and is handled differently than DUI alcohol arrests/convictions in regards to certain aspects. In many instances, a person may also be charged with a Beverly Hills drug crime if the illegal substance is found during a vehicle search or search incident to arrest.
Because someone who has been arrested for driving under the influence of drugs would not necessarily have a blood-alcohol level in excess of 0.08 percent, Beverly Hills DUI drug defendants are generally only charged with a violation of driving under the influence of drugs or alcohol pursuant to California Vehicle Code Section 23152(a) VC.
To be convicted of driving under the influence of drugs in Beverly Hills, the narcotic in question may be illegal drugs or legally prescribed medications that can impair one's physical capacities. Because courts and legislators are more concerned with keeping impaired drivers from operating vehicles, a person can be prosecuted for DUI Drugs even where the drug is a legitimate medical prescription. It is therefore important to go over any warnings on prescriptions to see if it is permissible to drive while taking them.
The Beverly Hills DUI Process for driving under the influence of drugs is similar to the process for DUI with alcohol cases with some critical distinctions. Contact with law enforcement is usually initiated after an officer stops a vehicle that he or she observes committing a traffic or equipment violation. Once the vehicle is stopped, an officer may form the suspicion that the driver is intoxicated based on their appearance, odor or demeanor. At that point, the officer would ask the driver to exit the vehicle for further testing.
While most field officers in Beverly Hills are trained on how to identify the signs of alcohol intoxication, far fewer are trained as Drug Recognition Experts ("DRE"). These officers have received training in identifying and testing for drug impairment, and are sometimes called in to assist on a DUI arrest. Because there is no portable breath test that measures drug intoxication (as there is for alcohol), any Beverly Hills DUI drug accusation must be supported by a positive blood or urine test.
Many people are surprised to learn that the DMV will not suspend their driver's license following a DUI with drugs arrest in Beverly Hills. The DMV only issues an administrative suspension when a person is caught driving with a blood alcohol level that is 0.08 percent or greater. While the DMV may not suspend a license right away for a "drugged driving" allegation, if the driver is ever convicted of a DUI offense in court, the DMV would at that point take action against the license and issue a suspension.
Driving while under the influence of drugs in Beverly Hills may carry severe punishments, including jail sentences, expensive court fines, alcohol/drug awareness classes, and mandatory community service or community labor hours. In addition, someone convicted of this offense may have to register as a narcotics offender. A conviction of this nature would be put on a person's criminal record and visible to anyone conducting a background check.
A knowledgeable Beverly Hills DUI attorney can attack a DUI with drugs charge on several fronts. There may be problems with the legitimacy of the vehicle stop, the ability of the officer to evaluate drug intoxication (if they have not been certified), false positives on drug tests and the tendency of certain drugs to show up in a person's blood or urine even after their intoxicating effect has worn off.
If you have been charged or arrested for DUI with drugs in Beverly Hills, it is critical that you speak with a Beverly Hills DUI attorney immediately. As a former Deputy District Attorney with over 14 years of prosecutorial experience, Beverly Hills DUI Attorney Michael Kraut is very familiar with the intricacies of driving under the influence of drugs allegations. Mr. Kraut is highly respected in the Beverly Hills area as a tough litigator who possesses a deep knowledge of the DUI law. Mr. Kraut works hard to ensure the best possible outcome for his clients.
For more information about Beverly Hills DUI with drugs, and to schedule your free consultation, contact Beverly Hills DUI Attorney Michael Kraut at the Kraut Law Group located at 8484 Wilshire Boulevard, Suite 660B, Beverly Hills, CA 90211-3220. Mr. Kraut can be reached 24/7 at 888-334-6344 or 310-550-6935.