Beverly Hills DUI Murder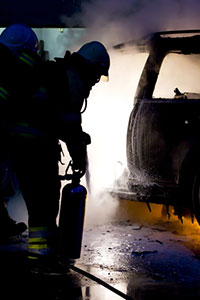 BEVERLY HILLS DUI MURDER / BEVERLY HILLS WATSON MURDER
The California Supreme Court has allowed prosecutors to file Beverly Hills DUI Murder charges under California Penal Code Section 187 PC in certain cases in which a DUI accident results in the death of another person. These cases are also called Beverly Hills Watson Murders in reference to the court case that originally authorized this enhanced charge. In contrast to Beverly Hills Vehicular Manslaughter pursuant to California Penal Code Section 191.5(b) PC and California Penal Code Section 191.5(a) PC, Beverly Hills DUI Murder is treated as a second degree murder charge that can carry 15 years to life imprisonment.
In order to prove Beverly Hills Watson Murder, the prosecutor must be able to establish that an intoxicated driver knew of the risk drunk driving carried, yet consciously ignored this risk and drove while intoxicated. This subsequently caused the death of another person. The intoxication can be as a result of the driver being under the influence of alcohol or drugs. It does not matter if the drugs are prescriptions or illegal, the punishment is the same for both types of drugs.
Beverly Hills DUI Murder charges tend to be filed in the most extreme cases, such as where the defendant was previously convicted for DUI or where the defendant had taken an alcohol awareness class that covered the dangers of impaired driving.
With murder cases, the prosecution is usually required to establish that the death in question was intentionally caused by the defendant. However, with Beverly Hills Watson Murder allegations, the element of intentional conduct is implied, and the prosecutor is only required to show that the defendant understood the risks of impaired driving and then consciously ignored these risks and was involved in a fatal DUI accident.
Proving that a defendant had knowledge of the risk of impaired driving has been made easier by having every person convicted of DUI to sign an acknowledgement recognizing that drinking and driving is inherently risky to human life. The Courts commonly refer to this acknowledgement as the "Watson Advisement."
There are various legal defenses that may be raised to counter charges of DUI Murder and it is critical that you contact a Beverly Hills DUI Murder Attorney if you or a loved one has been charged with this offense. Beverly Hills DUI Murder Attorney Michael Kraut is a former Deputy District Attorney with over 14 years of prosecutorial experience who has handled charges of this nature as both a prosecutor and a defense attorney. Beverly Hills DUI Murder cases are highly technical and require an attorney with specialized knowledge and experience in handling such cases.
Upon being retained, Mr. Kraut can bring in his team of top investigators and experts to evaluate the case and perform any additional investigation or testing that may be deemed necessary. Mr. Kraut works with top professionals in their respective fields who perform accident reconstructions and analysis, conduct independent toxicology testing and locate witnesses or physical evidence that may have been overlooked by the police.
As a former Senior Trial Prosecutor with the Los Angeles County District Attorney's Office, Mr. Kraut is highly respected by law enforcement and prosecutors alike as a skilled and knowledgeable litigator who fights hard on behalf of his clients.
For more information about Beverly Hills DUI Murder, and to schedule your free consultation, contact Beverly Hills DUI Murder Attorney Michael Kraut at the Kraut Law Group located 8484 Wilshire Boulevard, Suite 660B, Beverly Hills, CA 90211-3220. Mr. Kraut can be reached 24/7 at 888-334-6344 or 310-550-6935.