Beverly Hills Field Sobriety Tests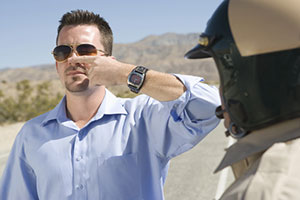 In Beverly Hills, field sobriety tests are widely used by law enforcement officers from the Beverly Hills Police Department, the Los Angeles County Sheriff's Department, and all other agencies operating in the Beverly Hills area to determine whether suspected DUI drivers are, in fact, driving under the influence of alcohol or drugs. The administration of field sobriety tests in Beverly Hills is an important part of the Beverly Hills DUI Process.
When conducting field sobriety tests, a law enforcement officer in Beverly Hills will be examining a driver to see if they show physical signs of intoxication, such as poor balance, motor skills or coordination. While many tests may be used, none of the tests alone can conclusively prove that a driver is impaired.
Standardized field sobriety tests in Beverly Hills include the following:
Walk And Turn Test – In this test, the driver is asked by a law enforcement officer to walk along a straight line in the road. The suspect must take nine heel-to-toe steps, pivot, and walk back. Someone who is impaired will show difficulty in maintaining their balance and may forget to turn or take the wrong amount of steps.


Horizontal Gaze Nystagmus Test – For this test, an officer will pay close attention to involuntary eye movements that occur at fixed angles. The angle where involuntary eye movements begin is different for people who are under the influence of drugs or alcohol. An officer trained in this test can theoretically determine if the onset of nystagmus occurs at an angle indicative of impairment. The problem with this test is that it is completely dependent on the officer's visual judgment and cannot later be verified or challenged.


One Leg Stand Test – For this test, a driver is asked to raise his or her foot and keep it in the air for thirty seconds. Those under the influence will have trouble keeping their balance and tend to sway.


Rhomberg Test – For this test, the driver is told to lean their head back and hold a stationary pose for thirty seconds. Someone who is impaired will generally have a hard time balancing when their visual frame of reference is disrupted.


Finger to Nose Test – In this test, a driver is told to extend their arms and close their eyes. They are then told to touch the tip of their nose by bending the elbow. Intoxicated suspects will usually miss the nose completely.


Other Tests – Law enforcements officers may request various other exercises to test coordination, balance and mental alertness. One popular test that is commonly used is having the suspect recite the alphabet backwards.
While law enforcement agencies in Beverly Hills may use a variety of different field sobriety tests, only the horizontal gaze nystagmus, the one leg stand and the walk and turn test are officially recognized by the National Highway Traffic Safety Administration ("NHTSA") as being qualified and approved field sobriety tests. The NHTSA has additionally cautioned law enforcement agencies not to pass or fail a driver when administering tests, but to make objective observations of the driver's performance on these tests and record them. If an officer appears too conclusive in their evaluation of field sobriety testing, this may show bias in the officer and could threaten the admissibility of the test. In fact, many officers may be biased when they administer field sobriety tests because they suspect the driver is already impaired.
A driver's performance on the field sobriety tests can be affected by numerous external factors, such as the condition of the road, the weather and temperature at the time of testing, the lighting of the area and the driver's clothing and footwear. A driver's performance can also be affected by health conditions that may cause the driver to perform poorly.
If you are facing DUI charges in Beverly Hills, it is critical that you speak with an experienced Beverly Hills DUI attorney immediately. A skilled Beverly Hills DUI attorney can critically evaluate the field sobriety tests used and challenge them for any improprieties. As a former Deputy District Attorney with over 14 years of prosecutorial experience, Beverly Hills DUI Attorney Michael Kraut is highly adept at challenging all aspects of a DUI arrest, including the field sobriety testing.
For more information about Beverly Hills Field Sobriety Tests, and to schedule your free consultation, contact Beverly Hills DUI Attorney Michael Kraut at the Kraut Law Group located at 8484 Wilshire Boulevard, Suite 660B, Beverly Hills, CA 90211-3220. Mr. Kraut can be reached 24/7 at 888-334-6344 or 310-550-6935.