Los Angeles DUI Urine Testing
Los Angeles DUI Attorney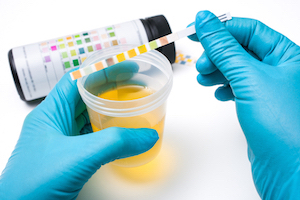 When a driver is arrested on suspicion of driving under the influence, he or she will be asked to submit to chemical testing and will be given the option of taking either a breath test or a blood test. Previously, drivers were permitted to submit to urine testing and some states still offer this as a form of chemical testing. However, urine testing is highly inaccurate and California has significantly limited when urine testing can be used. Under the law, urine samples can only be taken from defendants when they are suspected of driving under the influence of drugs in violation of California Vehicle Code Section 23152(f) VC or driving under the combined influence of alcohol and drugs pursuant to California Vehicle Code Section 23152(f) VC and where the breath or blood test is otherwise unavailable.
Urine tests are considered to be the least reliable form of chemical testing available and as a result are rarely used by law enforcement agencies. Title 17 of the California Code of Regulations has set strict protocols that must be followed regarding how a urine sample is collected, stored and analyzed. Under Title 17, a person taking a urine test must first void his or her bladder. The official urine sample must be collected at least 20 minutes later. If the sample is collected earlier or if the test subject is not permitted to first void his or her bladder, the resulting test results would be subject to challenge.
Under Title 17, the test subject must be allowed sufficient privacy but law enforcement must take measures to ensure that the sample is not doctored or comes from another source. Testing urine samples for alcohol can often lead to highly inaccurate results. Alcohol is typically found in higher concentrations in a person's urine than in his or her blood which leads to improperly elevated BAC results in urine tests. In addition, a person's bladder can collect and store alcohol that has been excreted by the body and no longer has an impairing effect. As a result, the urine test is widely considered to be unreliable in regards to measuring blood alcohol concentration.
Even when testing for drug intoxication, a urine test is also considered highly unreliable because the test cannot determine when a person actually used drugs. Urine tests can detect drug metabolites which are inactive traces of substances that had previously been taken. It is not unusual for certain metabolites to remain in a person's urine sample long after any intoxicating effect of the drug has worn off. This is especially true for marijuana and a person can have a positive urine test days after using marijuana.
The unreliability of urine tests have been documented and a study conducted by the National Institute of Drug Abuse has found that 20 percent of laboratories tested reported false positives in urine tests when testing samples that contained no drugs. This is because many chemical compounds can be mistaken for drugs when conducting urine tests. In rare criminal cases that involve urine tests, a defense attorney can challenge the reliability of the tests results on a number of different grounds.
If you have been arrested for DUI and want more information about urine testing, it is imperative that you discuss your case with a Los Angeles DUI Attorney right away. As a former Deputy District Attorney with over 14 years of prosecutorial experience, Attorney Michael Kraut understands the procedures and protocols of the various forms of chemical testing and is highly adept at challenging test results in court and before the DMV.
For more information about Los Angeles DUI urine testing, and to schedule your free consultation, contact Michael Kraut at the Kraut Law Group located at 6255 Sunset Boulevard, Suite 1520, Los Angeles, CA 90028. Mr. Kraut can be reached 24/7 at 888-334-6344 or 323-464-6453.