Los Angeles DUI and the Right to Remain Silent
Los Angeles DUI Attorney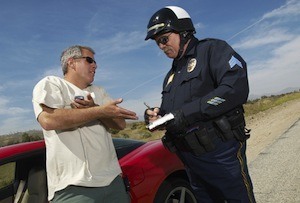 Many drivers tend to be confused about the right to remain silent and how it relates to driving under the influence incidents. In many cases, drivers believe they may be immune from criminal charges because an officer did not recite the famous Miranda warning that has become a staple of television and movies. In other cases, a driver may incriminate himself or herself by making admissions of guilt. There are many misconceptions about an individual's right to remain silent and how it should be exercised during a DUI investigation.
One of the key mistakes that drivers make when stopped by police is immediately making incriminating statements. A DUI traffic stop typically starts when a driver has been pulled over after the officer observes a traffic or equipment violation. The officer will approach the driver and discuss the reason for the traffic stop in most cases. However, if the officer is able to form a reasonable suspicion based on observable facts that the driver is under the influence, the traffic stop will quickly turn into a DUI investigation.
One of the key ways that officers develop this reasonable suspicion is to simply ask drivers questions about whether or not the driver has been drinking. Once a driver has admitted to drinking, the officer is justified in expanding the DUI stop to include field sobriety tests or a Preliminary Alcohol Sensor ("PAS") test and may be justified in arresting that driver on suspicion of driving under the influence. Law enforcement officers are trained to get drivers to make incriminating statements. They are not trying to trick the driver; and in most cases are simply asking questions such as "Have you consumed any alcohol tonight?" and "How many drinks have you had tonight?"
Most people have been taught to always be honest to police officers and to be cooperative in all ways. Because of this, many drivers tend to reveal too much information to officers when pulled over and end up making incriminating statements that ultimately hurt their case. While a driver may want to avoid making incriminating statements to the officer, he or she should never lie. Police do not like being lied to and prosecutors who are reviewing the case at a later date may look more harshly on drivers who were dishonest.
It is important to remember that those who are pulled over only need to provide their license, proof of vehicle registration and proof of insurance. If the officer needs to cite the driver for a traffic offense, California law requires that the driver sign a promise to appear in court to deal with the infraction. When officers begin to ask questions about alcohol or drug consumption, drivers should tread carefully. It is important to be courteous to the officer and a driver can politely respond to such questions by stating "I have nothing to say regarding that." Alternately, the driver may respond by asking why he or she was pulled over. Keep in mind that officers are looking for other physical signs of intoxication, such as a smell of alcohol on the driver's breath or bloodshot and watery eyes. Even if the driver does not make any incriminating statements, the officer may still feel there are enough indicators to justify a DUI investigation and/or arrest.
It is also important to remember that the famous Miranda rules apply to statements that have been made after arrest. Because these initial conversations occur as soon as the driver is pulled over, the officer is not required to recite any Miranda warning at that point. In fact, many officers do not provide a Miranda warning when making a DUI arrest at any point because once the arrest has been made they already have enough information to build a case and have no need to interrogate the driver any further.
If you have been arrested for DUI, it is critical that you speak with a Los Angeles DUI Lawyer immediately. As a former Deputy District Attorney with over 14 years of prosecutorial experience, Lawyer Michael Kraut possesses an in-depth knowledge of DUI policy and procedure and fights hard on behalf of his clients charged with DUI crimes.
For more information about DUI and the right to remain silent, and to schedule your free consultation, contact Michael Kraut at the Kraut Law Group located at 6255 Sunset Boulevard, Suite 1520, Los Angeles, CA 90028. Mr. Kraut can be reached 24/7 at 888-334-6344 or 323-464-6453.