Pasadena Ignition Interlock Device
Pasadena DUI Attorney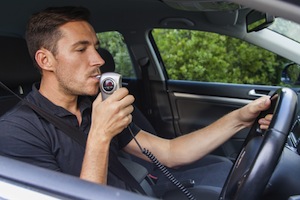 Courts and the Department of Motor Vehicles are increasingly requiring those convicted of Pasadena Driving Under the Influence offenses to install and maintain an Ignition Interlock Device ("IID") in their vehicles for a specified length of time.
An IID is a small electronic device that attaches to a vehicle's steering column and must be installed by an approved automotive technician. A driver must blow into the IID in order to start the vehicle. The device can determine if the driver has a measurable blood alcohol content. If the driver has consumed alcohol, the IID will prevent the vehicle from being turned on. In addition once the car has been turned on and is in operation, the IID will occasionally require the driver to breathe into the unit. If the driver fails to do so or provides a breath sample with a measurable BAC, the car will once again become inoperable.
The IID device will record any "fail" on a digital log. This log will be reviewed when the driver takes the vehicle and IID in for regular maintenance and calibration, and any "fails" will be reported to the DMV and/or the court.
The California Department of Motor Vehicles is currently conducting a pilot program that requires defendants convicted of a DUI offense under California Vehicle Code Section 23152 VC out of Los Angeles, Alameda, Sacramento and Tulare Counties to install an IID device in their vehicles for a period of at least five months. The pilot program applies to all DUI offenses occurring after July 1, 2010 and is scheduled to last until December 31, 2015. Because Pasadena is part of Los Angeles County, anyone convicted of a Pasadena DUI offense would be required to have an IID installed in his or her vehicle. The IID requirement would not apply to those convicted of reduced charges such as wet reckless (California Vehicle Code Section 23103/23103.5 VC), exhibition of speed (California Vehicle Code Section 23109(c) VC) or reckless driving (California Vehicle Code Section 23103 VC).
This IID requirement would apply to all DUI convictions. The DMV grants exemptions to those who live out of state (and can prove their out-of-state residence) as well as to those who do not own a vehicle. Those applying for the exemption should note that the driver would not be eligible for reinstatement of his or her California's driving privileges until the IID requirement has been fulfilled regardless of the exemption. An IID cannot be installed into a motorcycle or other similar vehicle.
In addition to those counties involved in the DMV pilot program, those who are convicted of multiple DUIs may be required to install an IID as part of their court sentence. Judges and prosecutors have increasingly made mandatory IID installation a condition of probation, as this device ensures that the driver is physically unable to drive while intoxicated.
In addition, in certain cases having an IID installed in one's vehicle can provide an opportunity for a restricted license for those who had prior DUI suspensions or convictions. Those with a prior DUI usually lose their driver's license for a full year. However, if the defendant installs an IID into his or her vehicle, he or she would be eligible for a restricted license after a 90 day hard suspension. The device would have to remain in the vehicle until the driver has completed the alcohol education class. The opportunity for a restricted license would not be available to drivers who were on probation for an earlier DUI when they were arrested on the subsequent offense or for drivers who refused chemical testing.
If you have been arrested for a DUI offense and want to know about DUI consequences such as the mandatory IID requirement, it is critical that you consult with a Pasadena DUI Lawyer as soon as possible. Pasadena DUI Attorney Michael Kraut is a former Deputy District Attorney with over 14 years of prosecutorial experience who is highly knowledgeable about DUI law and the affects that a DUI conviction can have on driving privileges. Mr. Kraut was formerly assigned to the Pasadena Courthouse where he served as a senior trial prosecutor. Because of this, Mr. Kraut is widely respected in Pasadena for his skills in the courtroom.
For more information about Pasadena Ignition Interlock Devices, and to schedule your free consultation, contact Pasadena DUI Lawyer Michael Kraut at the Kraut Law Group located at 790 East Colorado Boulevard, 9th Floor, Pasadena, CA 91101. Mr. Kraut can be reached 24/7 at 626-345-1899.