Pasadena Driver's License Suspension by Police
Pasadena DUI Attorney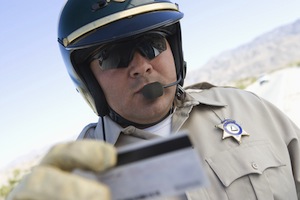 A Pasadena DUI arrest can be a confusing and stressful event for anyone, especially someone who has never been arrested before. The Pasadena DUI Process can be disorientating, and those being arrested may feel that they do not know exactly what is going on and what will happen to them next. Those arrested may focus on the potential criminal charges, without realizing that a driver's license suspension by police has been triggered by the Pasadena DUI arrest.
In Pasadena, the officer making the DUI arrest may be from the Pasadena Police Department, Los Angeles County Sheriff's Department, Arcadia Police Department, California Highway Patrol or any other law enforcement office operating within the Pasadena region. As part of the arrest process, the officer will request that the driver submit to chemical testing, either by providing a breath or blood sample. Refusal to submit to testing will result in an automatic one-year suspension of driving privileges.
If the chemical breath test shows a blood alcohol content that is 0.08 percent or higher, the officer will seize the arrestee's California driver's license and provide him or her with a pink sheet of paper notifying the driver of an Order of Suspension. Even where the driver submitted to a blood test and does not have a BAC that is immediately known, he or she will still be served with this Order of Suspension. The license suspension would begin 30 days later if no action is taken by the driver to contest the suspension.
The license suspension is considered an administrative penalty handled under the DMV and DUI Suspension Codes. The pink Order of Suspension will serve as a temporary license during the 30-day period that the DUI arrestee is permitted to drive before the license suspension becomes effective.
Various factors will affect the length of the DUI suspension. These include the following:
Whether the driver has a previous DUI suspension or conviction.
Whether the driver is on probation for a previous DUI conviction.
Whether the driver refused to submit to chemical testing when requested by an officer.
Whether the driver was under 21.
Whether the driver was under the influence of alcohol or any other intoxicant.
Whether the driver has a commercial driver's license.
For someone who is 21 or older, who did not refuse testing and who has no prior DUI suspensions or convictions, the driver's license suspension would be four months. The California DMV recognizes that four months is a long time to refrain from driving, and does offer qualifying individuals the opportunity to apply for a restricted license after a 30 day hard suspension where no driving at all is permitted. A restricted license will extend the underlying suspension period from four months to six months, however it will allow the driver to drive to work and back home and also to that driver's alcohol education class. To get a restricted license, a driver must enroll in a three-month alcohol education class, must obtain a supplemental SR-22 insurance policy and must pay a mandatory reinstatement fee.
Drivers in Pasadena who refuse to submit to chemical testing, who are under 21 or who have had a previous DUI conviction or suspension would have their license suspended for at least a year. In the majority of these cases, a restricted license would not be available and the driver would have to serve the entire suspension without the ability to drive. If the driver is 21 or older, did not refuse testing, and has a prior DUI conviction that he or she is no longer on probation for, there may be an opportunity to get a restricted license. After a 90 day hard suspension, the driver would be eligible for a restricted license with an Ignition Interlock Device ("IID") in his or her vehicle as long as there has been a conviction on the court case
A Pasadena DUI arrest can be an extremely unnerving event. The driver must immediately deal with the driver's license suspension issued by the police, and failure to submit a timely hearing request would result in an automatic suspension. Because of this, it is crucial that you contact an experienced Pasadena DUI Lawyer as soon as possible if you have been arrested for DUI. Pasadena DUI Attorney Michael Kraut is a former Deputy District Attorney with over 14 years of prosecutorial experience who is highly adept at handling all aspects of a DUI case.
For more information about the Pasadena driver's license suspension by police, and to schedule your free consultation, contact Pasadena DUI Lawyer Michael Kraut at the Kraut Law Group located at 790 East Colorado Boulevard, 9th Floor, Pasadena, CA 91101. Mr. Kraut can be reached 24/7 at 626-345-1899.