Pasadena DUI Education Classes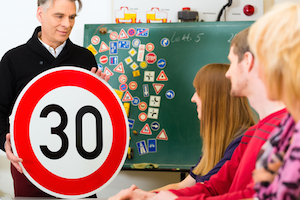 PASADENA DUI ATTORNEY
When being sentenced for a Pasadena DUI or Pasadena wet reckless offense, the law requires that the defendant attend and complete a drug and alcohol education class conducted by a state-approved provider. This class is also required by the California Department of Motor Vehicles before a suspended driver's privileges can be reinstated. An education component is considered to be an important aspect of any DUI sentence, as it is intended to educate those convicted about the dangers of impaired driving. Being kicked out of the alcohol education class or failing to complete the class in a timely fashion can carry serious consequences, including probation violations that can result in additional jail time, bench warrants being issued and the inability to get driving privileges fully reinstated.
The length of the alcohol education class required by the court can vary depending on the sentence and factors such as the defendant's BAC and prior record, as well as the underlying circumstances of the DUI offense. Someone convicted of a Driving Under the Influence offense in Pasadena would be required to complete one of the following classes:
SB 1176 - twelve-hour class
AB 541 - three-month class
AB 762 - six-month class
AB 1353 - nine-month class
SB 38 - eighteen-month class
SB 1365 - thirty-month class
For those sentenced to complete the SB 1176 (12 hour) program on a wet reckless, exhibition of speed or other reduced DUI charge, this class lasts six weeks and involves weekly two-hour sessions. Although the court may permit the completion of the 12-hour class, this class would not satisfy the DMV for the purpose of license reinstatement if there has been an administrative license suspension.
The three month alcohol education class, also known as the AB 541, is the class generally required for those convicted of a first time DUI offense without aggravating factors. This class is available in various locations throughout Pasadena as well as Los Angeles County and other counties in California. This class would also satisfy the DMV in terms of getting a driver's license reinstated. The AB 541 involves 12 hours of classroom education, 18 hours of group counseling sessions and three individual counseling sessions. The AB 541 meets one time a week and lasts three months.
The six month alcohol education class (AB 762) is rarer but can still be a part of a Pasadena defendant's DUI sentence. This class may be available for offenders who had an excessively high blood alcohol content or aggravating factors such as involvement in a vehicle collision. The six month class would feature a mix of classroom education, group and individual counseling sessions and AA attendance.
The AB 1353 (nine month program) may often be imposed on DUI defendants with higher than usual BACs. This class includes 12 hours of in-class education, 44 hours of group counseling, four hours of personal counseling and the mandatory attendance of 36 AA meeting.
The 18-month program (SB 38) is required for those sentenced on a second DUI offense within ten years. This class involves classroom education, 52 group counseling sessions, monitoring and personal interviews and is highly intensive.
When a driver is sentenced on a third DUI offense within ten years, the 30 month program (SB 1365) may be imposed. This class is sometimes available in Pasadena and involves in-class instruction, counseling, up to 300 required community service hours and careful monitoring.
While someone required to attend an alcohol education program can miss some sessions, missing too many will result in the individual being expelled from the program which could then trigger probation violations and other penalties. When the person convicted of a Pasadena DUI offense lives outside the state of California, the court may allow the defendant to complete a comparable online DUI education program.
If you have been arrested for a Pasadena Driving Under the Influence offense, it is very important that you consult with a Pasadena DUI Attorney right away. As a former Deputy District Attorney with over 14 years of prosecutorial experience, Pasadena DUI Lawyer Michael Kraut fights hard on behalf of his clients charged with DUI in order to obtain the best results possible and avoid DUI penalties.
For more information about the Pasadena DUI education classes, and to schedule your free consultation, contact Pasadena DUI Lawyer Michael Kraut at the Kraut Law Group located at 790 East Colorado Boulevard, 9th Floor, Pasadena, CA 91101. Mr. Kraut can be reached 24/7 at 626-345-1899.