Beverly Hills Criminal Lawyers
Beverly Hills Criminal Lawyer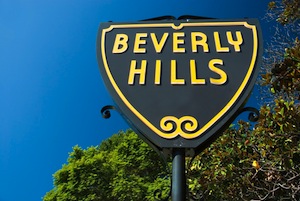 The Beverly Hills Police Department and Los Angeles County Sheriff's Department handle thousands of criminal investigations from the Beverly Hills area each year. These cases are referred to the Airport Branch of the Los Angeles County District Attorney's Office for filing consideration and Beverly Hills cases are heard at the Airport Courthouse located at 11701 South La Cienega Boulevard, Los Angeles, CA 90045. It is critical that anyone charged with or under investigation for a criminal offense in Beverly Hills speak with a knowledgeable and experienced criminal defense attorney as soon as possible.
Beverly Hills Theft Crimes
Because of the high concentration of boutiques and retail stores in Beverly Hills, theft crimes are vigorously pursued and prosecuted. Because of high end retailers in Beverly Hills, many shoplifting crimes are charged as grand theft due to the amount alleged stolen. Grand theft is a "wobbler" offense that can be charged as either a felony or a misdemeanor. In addition, shoplifters can also be charged with commercial burglary if there is evidence of entry into a store with the intent to steal.
Beverly Hills Domestic Violence Crimes
Domestic violence arrests in the Beverly Hills area occur frequently and officers from the Beverly Hills Police Department will typically arrest at least one of the parties involved in a domestic dispute. These arrests are often the result of misunderstandings and it is critical that anyone who has been arrested on suspicion of domestic violence in Beverly Hills contact an experienced criminal defense attorney immediately. In many cases, the early involvement of an attorney, especially one familiar with local prosecutors and detectives, can result in charges being significantly reduced and even dismissed. Domestic violence is a broad category of criminal offenses that covers a number of different crimes, including elder abuse, assault and battery and criminal threats.
Beverly Hills Hit and Run Offenses
After an increase in hit and run offenses, officers operating in the Beverly Hills area have set up units dedicated to investigating these crimes. Hit and run can be a misdemeanor if only property damage is involved or a felony if someone was injured as the result of a hit and run incident. Retaining a dedicated criminal defense attorney is imperative in these situations as it may be possible to avoid criminal charges.
Beverly Hills White Collar Crimes
White collar crime is a term applied to a variety of criminal offenses involving fraudulent activity. Law enforcement agencies in Beverly Hills have detective units dedicated to investigating these offenses and the District Attorney's Office takes these crimes very seriously. Investigations can extend for years and a person may only learn that he or she is suspected of a white collar crime when officers appear at the home or office with a search warrant. It is critical to speak with an attorney experienced in defending white collar crimes if you or a loved one have been arrested or are being investigated for one of these offenses.
The Beverly Hills Court Process
Misdemeanors and felonies occurring in Beverly Hills are prosecuted at the Airport Courthouse by the Los Angeles County District Attorney's Office. Old cases or probation matters that were previously heard at the Beverly Hills Courthouse are now handled at the Airport Courthouse. This includes warrants and expungement motions on cases that were previously heard in Beverly Hills.
If you have been charged with or are under investigation for a crime in Beverly Hills, it is crucial that you meet with an experienced criminal defense attorney as soon as possible. As a former Deputy District Attorney with over 14 years of prosecutorial experience, Michael Kraut is highly regarded in Beverly Hills as a top criminal defense attorney who works hard to ensure his clients receive the best defense possible.
For more information about Beverly Hills criminal defense, and to schedule your free consultation, contact Michael Kraut at the Kraut Law Group located at 8484 Wilshire Boulevard, #660B, Beverly Hills, CA 90211-3220. Mr. Kraut can be reached 24/7 at 888-334-6344 or 310-550-6935.