Beverly Hills Forgery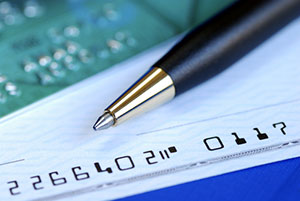 One of the more frequently charged white collar offenses in the Beverly Hills area is the crime of forgery under California Penal Code Section 470 PC. The crime of forgery can often result in severe financial damages for a wide range of victims and prosecutors aggressively pursue charges.
The forgery statute covers a wide variety of crimes involving falsifying or counterfeiting checks or legal documents in order to advance a fraud. Forgery in Beverly Hills may include one of the following unlawful acts:
Forging the signature of someone else on an official document or check.
Creating a fraudulent seal and using it on an official document.
Making unauthorized changes to official documents like wills, deeds, court documents or contracts.
Creating counterfeit checks, money orders, bank documents, financial instruments or lottery tickets as part of a fraudulent scheme.
In order to prove a forgery charge, a Deputy District Attorney from the Airport Branch of the Los Angeles County District Attorney's Office must be able to prove that the defendant did one of the acts listed above and intended to commit or advance a fraud when he or she acted.
To be convicted of forgery, there must have been an intent to illegally obtain a benefit as a result of the underlying conduct. Typically, this benefit is financial and forgery crimes often involve signing another person's name on a check without authorization or making changes to formal wills or contracts without permission. In many cases, forgery offenses may also be charged in connection with Beverly Hills elder abuse crimes where the victim of the forgery is 65 or older and the defendant is accused of unlawfully using the elderly person's checks or making unauthorized changes to his or her will.
A Beverly Hills forgery offense has not been completed until the forged document or seal has been "uttered," or passed off as authentic to a third party. In situations where the defendant has created a forgery but has yet to "use" it, the defendant could only potentially be charged with attempted forgery.
It was previously the case that the majority of forgery offenses in Beverly Hills involved check forgery. However, in recent years many forgery prosecutions have involved the creation of fake credit cards and other financial instruments. A forgery crime involving credit cards may occur when someone uses the card of another and signs the other person's name without authorization. In these cases, a prosecutor can also pursue charges of Beverly Hills credit card fraud.
When prosecuting a defendant for forgery, the People may have to bring in a handwriting expert in order to show how a particular writing or signature was forged. The defense may have to rely on its own expert witnesses in order to rebut the People's case.
The crime of forgery was always considered a "wobbler" offense that could have been charged as either a felony or a misdemeanor until very recently. Since the adoption of Proposition 47 which has reduced the penalties on a number of criminal offenses, forgery crimes in which the underlying loss was $950 or less are now always misdemeanors. A person who has been convicted of misdemeanor level forgery can be sentenced to serve up to a year in jail in addition to other conditions of probation. The defendant would also have to compensate the victims for any damages incurred through restitution.
If the forgery offense resulted in damages in excess of $950, the offense is still a "wobbler." A prosecutor could file the case as either a felony or a misdemeanor depending on factors such as the defendant's criminal history and the specifics of the case. If the prosecution pursues felony charges, the defendant can face up to three years in prison if convicted. If misdemeanor charges are filed, the defendant would face up to a year in jail. Restitution would be ordered in either case.
If you have been accused of a Beverly Hills forgery offense, it is very important that you consult with a Beverly Hills Criminal Defense Lawyer immediately. Beverly Hills Criminal Defense Attorney Michael Kraut is a former Deputy District Attorney with over 14 years of prosecutorial experience who is highly effective at defending clients charged with forgery and other Beverly Hills white collar crimes.
For more information about Beverly Hills forgery offenses, and to schedule your free consultation, contact Beverly Hills Criminal Lawyer Attorney Michael Kraut at the Kraut Criminal & DUI Lawyers located at 8484 Wilshire Boulevard, Suite 660B, Beverly Hills, CA 90211-3220. Mr. Kraut can be reached 24/7 at 310-550-6935.