Beverly Hills Elder Abuse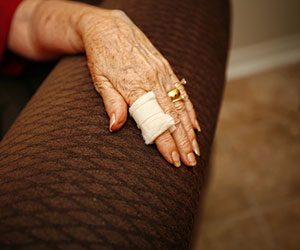 Elder abuse in Beverly Hills involves certain criminal offenses, including assault and battery, emotional abuse, negligent care, financial abuse and sexual abuse, in which the victim is 65 or older. Elder abuse is a criminal offense under California Penal Code Section 368 PC that law enforcement and prosecutors in Beverly Hills take very seriously. Those convicted may face substantial penalties, including prison sentences.
When the named victim is 65 or older, the following offenses may be the underlying basis for an elder abuse charge in Beverly Hills:
Physical Abuse – When a person commits an assault or battery offense on someone who is 65 or older, that person can be charged with elder abuse. These cases are considered especially egregious due to the vulnerability of the victims and the serious injuries that even minimal contact can cause. In many cases, the alleged attacker is an employee of a nursing home or other senior care facility who works closely with the elderly. In other cases, the defendant may be the children of an elderly person.
Neglect – A form of elder abuse involves the failure to provide necessities of life to an elderly person, such as adequate food, shelter, clothing and medical care, when there is a duty to provide this care. Negligent care elder abuse is usually charged against the owners, operators or employees of senior care facilities that agree to (and are compensated for) providing care for elderly patients but fail to provide a suitable level of care.
Emotional Abuse – Mental or emotional abuse is usually not behavior that is considered criminal. However, when this abuse is directed at someone 65 or older, it may be considered a form of elder abuse in violation of the law.
Financial Abuse – The elderly are often the targets of financial abuse, which can include embezzlement and other theft offenses. When financial abuse is directed at those 65 and older, elder abuse chargers may be applicable.
Sexual Abuse – When an elderly person is the victim of a sexual assault or another sex crime, elder abuse charges may be deemed appropriate.
A person accused of elder abuse in Beverly Hills may be able to assert one of several applicable defenses. In many cases, the defendant may be the victim of a false accusation leveled by an elderly person who may be confused, mentally unsound or simply vindictive.
In other cases, an allegation of elder abuse in Beverly Hills may stem from completely accidental and unintentional contact. In some cases, physical injuries may be present as a result of a slight touch. In these instances, the defendant may be able to raise a valid accident defense. It is important to remember, however, that an accident defense would not be applicable if the defendant is charged with elder abuse due to negligent care or conduct. In these cases, even unintentional injuries can be considered criminal.
Elder abuse offenses in Beverly Hills are "wobblers" which means that either felony or misdemeanor charges can be filed. When evaluating a case and making a filing decision, a Deputy District Attorney from the Airport Branch Office of the Los Angeles County District Attorney's Office will consider numerous factors, including the age and vulnerability of the victim, the defendant's criminal history and the extent of injuries, if any. If convicted of felony-level elder abuse, a defendant can be sentenced to up to four years in prison, with a potential extra three years added to his or her sentence if the victim died or suffered great bodily harm as a result of the defendant's conduct. Defendants convicted of Beverly Hills elder abuse as a misdemeanor can be sentenced to up to a year in jail in addition to numerous conditions of probation that a judge may impose, including costly court fines, victim restitution, counseling, community service and/or community labor. A conviction for an offense of this nature can jeopardize employment, especially if the defendant is a nurse or a caregiver.
If you have been charged with elder abuse in Beverly Hills, it is critical that you consult with an experienced Beverly Hills criminal defense attorney as soon as possible. As a former Deputy District Attorney with over 14 years of prosecutorial experience, Beverly Hills Criminal Defense Attorney Michael Kraut is a highly respected member of the legal community who is reputed for his dedication to his clients and extensive knowledge of the law.
For more information about Beverly Hills elder abuse, and to schedule your free consultation, contact Beverly Hills Criminal Defense Attorney Michael Kraut at the Kraut Law Group located at 8484 Wilshire Boulevard, Suite 660B, Beverly Hills, CA 90211-3220. Mr. Kraut can be reached 24/7 at 888-334-6344 or 310-550-6935.