Beverly Hills Robbery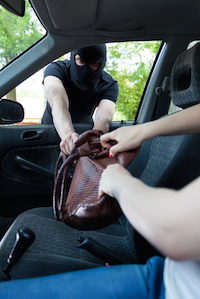 Criminal charges of robbery in Beverly Hills under California Penal Code Section 211 PC are considered serious felonies that can carry lengthy prison sentences for anyone convicted. Robbery is a strike offense under California's Three Strikes Laws that will affect any future convictions.
The crime of robbery is defined as the unlawful taking of property by force or fear. The kind of property taken and its value would be irrelevant when prosecuting someone for robbery. A robbery offense can involve the use of a weapon or even the mere threat of violence against a person or a person's family or property. Someone convicted of robbery can be sent to prison for up to five years. If the robbery was committed using a weapon or if the victim sustained injuries as the result of the robbery, a longer prison sentence would be assessed.
A Beverly Hills robbery offense can either be charged as robbery in the first or second degree. A second degree robbery offense occurs when a defendant takes the property of another by means of force or fear. This crime becomes first degree robbery if the taking occurs where the victim lives, around an ATM machine or in cases where the victim is the driver of a taxicab.
Robbery in the second degree is a felony offense that can carry sentences of up to five years in prison. A conviction for first degree robbery increases the potential prison time to nine years. Besides prison, a defendant convicted of robbery would have to pay significant court fines as well as restitution to the victim for any losses suffered. A robbery conviction in Beverly Hills is always a felony-level offense that will terminate a person's voting rights and ability to legally own and possess guns.
To convict a defendant of a Beverly Hills robbery crime, a prosecutor must be able to establish the following elements beyond a reasonable doubt:
The defendant took property belonging to someone else.


This property was taken off of the victim's person or away from the victim's immediate control.


The taking of the property by the defendant was nonconsensual.


In order to obtain the property, the defendant used force or the threat of force or violence against the victim or his or her family or property.


AND it was the defendant's intent to remove the property permanently from the victim or to take it for so long that the victim would be substantially affected by the loss of the property.
Under California Penal Code Section 211 PC, the robbery statute, fear is defined as a threat to injure the victim or a threat to harm the property or family of the victim.
Someone charged with robbery in Beverly Hills may be able to raise a number of applicable defenses when fighting his or her case. A defendant who was simply taking back his or her own property cannot be guilty of a robbery crime, as one element of this offense requires that the property belong to someone else. Thus, if the defendant owned the property involved or else had an honest belief that he or she owned the property, this defendant would not be criminally liable under California Penal Code Section 211 PC. In these situations, a defendant who threatens or hurts someone else in order to take back their own property could possibly be charged with criminal threats pursuant to California Penal Code Section 422 PC or battery under California Penal Code Section 242 PC.
A defendant can be charged with a separate count of robbery for each victim of the crime. In addition, using a gun as part of a robbery can result in a prison sentence of up to ten years. If this gun was fired during the robbery, the potential prison time would increase to 20 years.
If you or a loved one are facing criminal charges for a Beverly Hills robbery offense, it is highly recommended that you consult with a Beverly Hills Criminal Defense Attorney immediately. As a former Deputy District Attorney with over 14 years of prosecutorial experience, Beverly Hills Criminal Defense Lawyer Michael Kraut knows how best to defend those charged with serious felonies such as robbery.
For more information about Beverly Hills robbery offenses, and to schedule your free consultation, contact Beverly Hills Criminal Defense Attorney Michael Kraut at the Kraut Law Group located at 8484 Wilshire Boulevard, Suite 660B, Beverly Hills, CA 90211-3220. Mr. Kraut can be reached 24/7 at 310-550-6935.