Beverly Hills Marijuana Offenses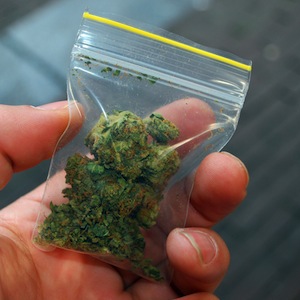 Many of the legal restrictions pertaining to marijuana previously applicable in California have been relaxed in recent years, so much so that many people are under the false assumption that marijuana use, possession and sale is completely legal. However, just like how someone can face stiff penalties for committing various Beverly Hills drug crimes, there are a litany of frequently-charged Beverly Hills marijuana offenses that can result in serious consequences for those convicted. Commonly charged marijuana-related offenses in Beverly Hills include the following:
People accused of possessing less than an ounce (28.5 grams) of marijuana can be charged with an infraction punishable by a $100 fine. If the defendant is caught in possession of more than 28.5 grams of marijuana, misdemeanor charges would be applicable that could result in up to six month in jail. However, many of those charged with this offense may be eligible for a Proposition 36 diversion program that would allow the defendant to avoid a criminal conviction if he or she completes treatment.
When someone is accused of possession of marijuana for sale in Beverly Hills he or she faces significantly more severe penalties under California Health and Safety Code Section 11359 H&S. Possession for sale is a felony and those convicted can face prison sentences. In Beverly Hills, a possession for sale case can be proven in a number of different ways. Sometimes, law enforcement can catch defendants in the act via sting operations and the use of undercover operatives. In other cases, prosecutors must prove possession for sale with circumstantial evidence, usually shown by the presence of scales, baggies, ledgers and other indicia of marijuana sales. Someone convicted of possessing marijuana for sale can face up to four years in prison. If the defendant only transported the marijuana, or gave it away for free, he or she could be charged with a misdemeanor.
The legal landscape in California regarding marijuana offenses changed drastically in 1996 after Proposition 215 was passed by the voters. Under Proposition 215, which was codified into law as California Health and Safety Code Section 11362.5 H&S, people with valid prescriptions can grow, possess and use limited amounts of marijuana. However, this marijuana cannot be sold or given away to someone who is not authorized.
Although marijuana possession and use is legal in some situations, it is always a crime to drive while under the influence of drugs in Beverly Hills. This would include driving under the influence of marijuana. There has been an increase in the number of Drug Recognition Enforcement ("DRE") officers available in the Beverly Hills area. DRE officers have received special training on the recognition of drug intoxication. Blood testing of those suspected of driving under the influence of drugs may come back positive for marijuana, in which case the defendant could be charged with DUI pursuant to California Vehicle Code Section 23152(a) VC . Unlike DUI offenses involving alcohol, the California DMV would not administratively suspend driving privileges for those discovered to be driving while under the influence of marijuana, however any resulting court conviction for DUI would include a license suspension.
If you have been charged with a marijuana offense in Beverly Hills, it is critical that you speak with a Beverly Hills Criminal Defense Attorney right away. Beverly Hills Criminal Defense Attorney Michael Kraut is a former Deputy District Attorney with over 14 years of prosecutorial experience who has significant experience in defending marijuana cases. Mr. Kraut works hard to ensure the best possible outcome for his clients.
For more information about Beverly Hills marijuana crimes, and to schedule your free consultation, contact Beverly Hills Criminal Defense Attorney Michael Kraut at the Kraut Law Group located at 8484 Wilshire Boulevard, Suite 660B, Beverly Hills, CA 90211-3220. Mr. Kraut can be reached 24/7 at 888-334-6344 or 310-550-6935.
Client Reviews
He gave me the peace of mind that my DUI case was going to be resolved. He fought for what it was needed and helped me by answering all my questions. Mike is not an average attorney. He's a very experienced, honest and straightforward person that is there for you!
I hired Attorney Mike Kraut and I'm am so happy and grateful that I did! I was arrested for a DUI because my BAC level was over the .08 limit. I ended up getting a wet and reckless instead of a DUI. I still have to do some classes and I'm on probation, but I do not have a DUI on my record. If you have a DUI hire Attorney Kraut, he definitely knows his stuff!
There aren't enough positive words to write about Mike, but let me be clear that this is the only lawyer worth hiring in Los Angeles. Mike is professional, caring, and an absolute champion at winning in court.
Mike Kraut is not a typical lawyer. He is a straightforward person with a true heart and a sympathetic ear. He is also smart and connected and he cares about the people who seek out his help. He got my son out of a jam. He did it quickly and painlessly. I recommend Mike Kraut to anyone that needs his services.
Thank you Mike for helping my son.
Michael Kraut is a rock star lawyer. I was really happy and satisfied with the results I received from Michael and his team. A few months back I was being accused of a serious felony. Mike gave me sound legal advice and worked diligently to clear my name. Mike was great at always keeping me updated and returning calls. Great, great lawyer I cant say enough about this man!
How can I express how relieved and pleased I am with Michael's professional abilities to have my Felony brought down to a misdameanor to a possible dismissal with deferment. With his care my life has been turned around and cannot say how helpful he's been not only in my case but life. He, himself has changed how I view criminal lawyers. Thank you so much Michael!