Los Angeles DUI and Xanax
Los Angeles DUI Attorney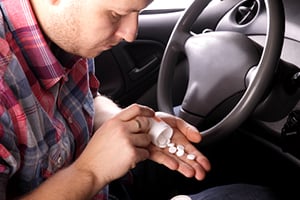 A person can be charged with a driving under the influence if he or she is driving under the influence of either alcohol or drugs. Many people believe that driving under the influence of drugs only involves illicit street drugs such as cocaine, heroin, ecstasy or PCP. However, a person can be charged with a DUI drug offense under California Vehicle Code Section 23152(e) VC if he or she is under the influence of a drug that is lawfully prescribed. One of the most common medications that trigger DUI drug prosecutions is Xanax, known generically as alprazolam, which is a widely-prescribed anti-anxiety medication that is also a powerful benzodiazepine.
Xanax and other benzodiazepines such as Valium and Klonopin are used to treat conditions such as anxiety. Similar to alcohol, Xanax can lead to sleepiness, lightheadedness and lack of coordination. In a controlled test, drivers who take one milligram of alprazolam experience increased weaving. In fact the test had to be stopped because some test subjects became too tired to continue.
During a traffic stop, if an officer believes that the driver is under the influence of Xanax or another drug the officer may ask the driver about any medications that he or she has ingested. Additionally, the officer may request that a Drug Recognition Expert ("DRE") officer be called to the scene to perform an evaluation of the driver. DRE officers receive special training on recognizing drivers who are under the influence drugs, including Xanax and other benzodiazepines.
If the officer has sufficient probable cause to believe that the driver is under the influence of Xanax or another drug, the driver will be arrested and taken in for chemical testing. Because there is no breath test that can measure whether or not a driver is under the influence of Xanax, he or she would have to supply a blood sample. Usually the driver is taken to a hospital where a blood draw is completed. The blood sample is then stored and transported to the crime laboratory for toxicology testing. The results of the blood test are not known immediately and usually this information will be released at the defendant's arraignment hearing which may occur weeks or months after an incident occurs.
The defense may obtain a blood split order to get the original blood sample retested at an independent laboratory. In some cases, the retest may show that the levels of benzodiazepine in the defendant's blood are below the amount that would cause impairment. It may be necessary to use an expert witness toxicologist to show that based on the low levels of benzodiazepine in the defendant's blood, he or she was not under the influence of a drug at the time of driving.
Defendants who only have Xanax in their system would not face an administrative DMV driver's license suspension as a result of the arrest as would a person whose BAC was 0.08 percent or higher. However, if the defendant is ultimately convicted of driving under the influence of drugs in violation of California Vehicle Code Section 23152(e) VC, the DMV will suspend his or her driver's license at that point based on the DUI conviction.
If you have been arrested or charged with a DUI offense involving Xanax or another prescription drug, it is imperative that you discuss your case with a Los Angeles DUI Lawyer as soon as possible. Los Angeles DUI Attorney Michael Kraut is a former Deputy District Attorney with over 14 years of prosecutorial experience who understands how to effectively defend clients charged with DUI drug offenses.
For more information about Los Angeles DUI and Xanax, and to schedule your free consultation, contact Los Angeles DUI Lawyer Michael Kraut at the Kraut Law Group located at 6255 Sunset Boulevard, Suite 1480, Los Angeles, CA 90028. Mr. Kraut can be reached 24/7 at 888-334-6344 or 323-464-6453.
Client Reviews
He gave me the peace of mind that my DUI case was going to be resolved. He fought for what it was needed and helped me by answering all my questions. Mike is not an average attorney. He's a very experienced, honest and straightforward person that is there for you!
I hired Attorney Mike Kraut and I'm am so happy and grateful that I did! I was arrested for a DUI because my BAC level was over the .08 limit. I ended up getting a wet and reckless instead of a DUI. I still have to do some classes and I'm on probation, but I do not have a DUI on my record. If you have a DUI hire Attorney Kraut, he definitely knows his stuff!
There aren't enough positive words to write about Mike, but let me be clear that this is the only lawyer worth hiring in Los Angeles. Mike is professional, caring, and an absolute champion at winning in court.
Mike Kraut is not a typical lawyer. He is a straightforward person with a true heart and a sympathetic ear. He is also smart and connected and he cares about the people who seek out his help. He got my son out of a jam. He did it quickly and painlessly. I recommend Mike Kraut to anyone that needs his services.
Thank you Mike for helping my son.
Michael Kraut is a rock star lawyer. I was really happy and satisfied with the results I received from Michael and his team. A few months back I was being accused of a serious felony. Mike gave me sound legal advice and worked diligently to clear my name. Mike was great at always keeping me updated and returning calls. Great, great lawyer I cant say enough about this man!
How can I express how relieved and pleased I am with Michael's professional abilities to have my Felony brought down to a misdameanor to a possible dismissal with deferment. With his care my life has been turned around and cannot say how helpful he's been not only in my case but life. He, himself has changed how I view criminal lawyers. Thank you so much Michael!