Sale or Transportation of a Controlled Substance in Los Angeles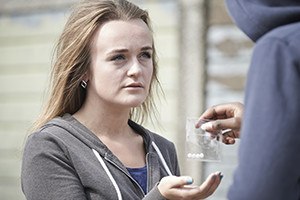 One of the most serious drug crimes in California is transportation or sale of a controlled substance in violation of California Health and Safety Code Section 11352 HSC. Law enforcement agencies devote significant resources to investigating narcotics sales and trafficking offenses and those convicted of these crimes can face several years in state prison. However, there are several defenses that may applicable to someone who is accused of selling or transporting drugs and it is critical that anyone who has been arrested or is being investigated for this type of offense speak with a qualified attorney immediately.
The Elements of a Narcotics Sale or Transportations Crime
In order to convict a defendant of selling or transporting a controlled substance, the prosecution must be able to prove that the defendant sold, furnished, administered, gave away, transported or imported into California a controlled substance and that he or she knew of the presence of the controlled substance.
Many defendants are surprised to learn that sale or transportation charges under California Health and Safety Code Section 11352 HSC can be filed even when there is only a small amount of drugs involved. This law applies to prohibited drugs such as heroin, cocaine, LSD, certain prescription drugs and peyote. As long as the police discover a usable amount of the narcotic in question and have evidence that the drug was being sold or transported by the defendant, he or she can potentially be charged with drug sales and would face a much longer prison sentence compared with the penalties on simple drug possession, which is now on a misdemeanor offense.
Penalties Associated with the Sale or Transportation of Narcotics
Selling or transporting narcotics is always a felony level crime. A defendant who is convicted of selling or transporting a controlled substance can be sentenced to serve up to five years in prison in addition to a $20,000 fine. There are numerous aggravating factors that can lead to longer prison sentences. If the defendant transported a controlled substance over two or more county lines, the maximum sentence that he or she may receive is nine years. Selling drugs to minors or transporting excessive quantities of controlled substances can lead to longer prison sentences and more expensive court fines.
Legal Defenses to Sale or Transportation of Controlled Substances
There are a number of defenses that a defense attorney may raise in fighting a drug sale or drug transportation case. If the drugs were for personal use and the defendant did not intend to sell them, he or she may not be guilty of this offense. In addition, the fact that a defendant is found with drugs in his or her vehicle does not automatically mean that he or she is guilty of a transportation offense, especially if only a personal amount of narcotics is discovered.
Drug sale cases often rely on undercover sting operations. If the law enforcement operative is overly aggressive and pressures the defendant into making or arranging a drug sale, the defense may be able to raise a valid entrapment defense. In addition, many of these cases rely on the evidence or testimony of other people who may be paid police informants or those looking to reduce a jail or prison sentence. In these cases, the defense may be able to challenge the credibility of the prosecution's witness.
If you or someone you know have been arrested for transporting or selling drugs, it is crucial that you meet with an attorney immediately. As a former Deputy District Attorney with over 14 years of prosecutorial experience, Michael Kraut understands how to effectively defend clients charged with drug sales offenses and has been able to have these charges significantly reduced and even dismissed in many cases.
For more information about selling or transporting a controlled substance, and to schedule your free consultation, contact Michael Kraut at the Kraut Law Group located at 6255 Sunset Boulevard, Suite 1520, Los Angeles, CA 90028. Mr. Kraut can be reached 24/7 at 888-334-6344 or 323-464-6453.