Possession of Methamphetamine in Los Angeles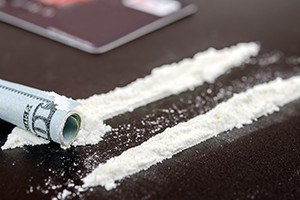 Under the recently passed Proposition 47, many of the drug possession crimes that were previously felony level offenses are now misdemeanors. Under California Health and Safety Code Section 11350 HSC, possessing drugs such as cocaine, heroin, opiates, and certain prescription drugs is prohibited by law. This law does not apply to possession of methamphetamine; a drug that is relatively easy to produce and that has grown in popularity in recent years. Methamphetamine possession is covered under California Health and Safety Code Section 11377 HSC, which makes it illegal to possess methamphetamine, GHB, ketamine and certain other anabolic steroids. Even though this drug crime is no longer a felony, law enforcement agencies aggressively enforce these laws and those arrested can face jail time and other potential penalties.
Misdemeanor Methamphetamine Possession
Under California Health and Safety Code Section 11377 HSC, a defendant can be charged with a misdemeanor for possessing a "personal" amount of methamphetamine. This offense is often referred to as "simple possession." If the police or prosecution believe that the defendant possessed methamphetamine with the intent to sell it later or was caught selling or transporting methamphetamine or one of the other drugs listed under the statute, he or she can be charged with a felony level offense. Possessing methamphetamine for sale is a felony under California Health and Safety Code Section 11378 HSC and selling methamphetamine is prohibited by California Health and Safety Code Section 11379 HSC.
In determining whether a defendant should be charged with simple possession or possession for sale, prosecutors and police will often look at factors such as the amount of methamphetamine possessed and whether there was evidence that the defendant was involved in methamphetamine sale, such as the presence of large amounts of cash, drug packaging materials, scales and text messages indicative of drug sales.
Methamphetamine Possession Penalties
Since the adoption of Proposition 47, a violation of California Health and Safety Code Section 11377 HSC is now a misdemeanor. The maximum sentence that can be imposed by law is a year in jail and extensive court fines. A sentencing judge will often impose stringent terms of probation including mandatory drug treatment and random drug testing. If the defendant has a prior conviction for an offense that requires sex offender registration under California Penal Code Section 290 PC or a prior conviction for a serious or violent felony, possession of methamphetamine is a "wobbler" offense that can be charged as either a misdemeanor or a felony. Certain defendants may also be eligible for drug diversion under either Proposition 36 or Penal Code Section 1000 PC.
Defenses to Possession of Methamphetamine
There are various defenses that may be applicable to a defendant who is charged with simple possession of methamphetamine. If the drugs were discovered during an improper search or seizure, the defense may be able to challenge the admissibility of the drug evidence by a filing a motion to suppress pursuant to California Penal Code Section 1538.5 PC. If granted, the evidence would be excluded and the prosecution would likely be unable to proceed with the case.
If you or a loved one have been charged with possession of methamphetamine, it is critical that you discuss your case with top-rated drug crime attorney as soon as possible. Michael Kraut is a former Deputy District Attorney with over 14 years of prosecutorial experience who understands how best to defend clients charged with possession of methamphetamine and other drug-related crimes. Mr. Kraut is widely respected by judges, prosecutors and law enforcement officers for his skills as a litigator and he works hard to ensure his clients receive the most comprehensive defense possible.
For more information about possession of methamphetamine and to schedule your free consultation, contact Michael Kraut at the Kraut Law Group located at 6255 Sunset Boulevard, Suite 1520, Los Angeles, CA 90028. Mr. Kraut can be reached 24/7 at 888-334-6344 or 323-464-6453.