LASD DUI Arrests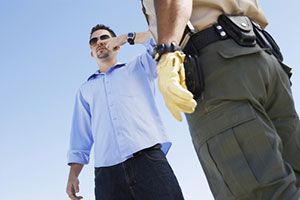 There are a number of different law enforcement agencies in the Los Angeles area that are responsible for making driving under the influence arrests and referring these cases for prosecution. In addition to the California Highway Patrol ("CHP") and Los Angeles Police Department ("LAPD"), the Los Angeles Sheriff's Department ("LASD") is responsible for a significant number of DUI arrests on any given night or weekend. The LASD patrols throughout Los Angeles County and provides law enforcement services to unincorporated parts of Los Angeles County such as East Los Angeles in addition to cities that contract with the LASD such as West Hollywood, Malibu, Universal City and many others. The LASD employs over 9,000 deputies and is the fourth largest law enforcement agency in the nation. The LASD conducts DUI arrests throughout Los Angeles County and it is important to know and understand how this organization operates.
The LASD is recognized by their distinctive tan uniforms and patrol vehicles. While drivers are more likely to be pulled over by CHP officers while on the freeway or LAPD officers while in the City of Los Angeles, the LASD has the authority and jurisdiction to conduct traffic stops, DUI investigations and DUI arrests throughout Los Angeles County.
LASD Handle DUI Investigations
LASD officers receive a significant amount of training in conducting DUI arrests and handling DUI investigations. Typically, an LASD deputy will pull over a vehicle when he or she observes the driver commit a traffic violation. In other cases, a LASD deputy will be dispatched to respond to a collision and will ultimately come to suspect that one of the drivers involved in the accident was under the influence of drugs or alcohol.
The LASD deputy will conduct a DUI investigation that includes observing the driver for physical symptoms of intoxication such as bloodshot or watery eyes, slurred speech or an odor of alcohol, conducting a series of field sobriety tests intended to determine whether the driver is potentially impaired and asking the driver to provide a breath sample for testing on the deputy's portable preliminary alcohol sensor ("PAS") device.
If arrested by the LASD on suspicion of driving under the influence, the driver will be given the option of taking either a breath or blood test. If the driver selects the breath tests, he or she will be taken to the sheriff's station for a Breathalyzer test. If the driver chooses the blood test, he or she will usually be taken to a hospital where medical personnel will conduct the blood test and the blood sample will be sent to the county crime lab for testing. The results of the blood test are not known immediately.
The vast majority of LASD arrests are prosecuted by a Deputy District Attorney from the Los Angeles County District Attorney's Office. The LASD is also the agency responsible for providing security services at the various Los Angeles County Superior Court locations and deputies serve as bailiffs in individual courtrooms. In addition, the LASD operates the local county jail and is typically responsible for booking and processing defendants who are arrested on suspicion of DUI by any law enforcement agency in the Los Angeles area. The LASD is therefore involved in some way in all DUI arrests and/or cases that occur in Los Angeles County.
LASD Handle DUI Investigations
If you arrested by the LASD for DUI, it is very important that you consult with a Los Angeles DUI Lawyer right away. Attorney Michael Kraut is a former Deputy District Attorney with over 14 years of prosecutorial experience who is known and highly respected by LASD deputies as he used to handle their cases when he was a prosecutor.
For more information about Los Angeles DUI and the LASD, and to schedule your free consultation, contact Michael Kraut at the Kraut Law Group located at 6255 Sunset Boulevard, Suite 1520, Los Angeles, CA 90028. Mr. Kraut can be reached 24/7 at 888-334-6344 or 323-464-6453.