Cruelty to Animals
California Penal Code Section 597(a) PC: Cruelty to Animals
1. Definition and Elements of the Crime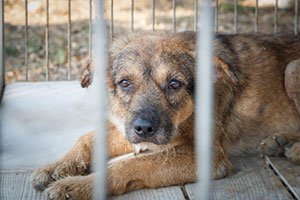 The law recognizes that animals can be subjected to cruel treatment and that this type of conduct should be penalized. Recent widespread attention to these types of offenses and an increase in awareness regarding the mistreatment of animals has led to an upswing in prosecutions for this offense.
To prove that a defendant is guilty of cruelty to an animal, a prosecutor must be able to establish the following required elements:
The defendant maimed, mutilated, tortured, wounded, or killed a living animal; AND
The defendant acted with malicious intent.
An animal is tortured when an owner's act or failure to act causes an unjustifiable physical pain or suffering to the animal. An animal is maimed when it is disabled or disfigured permanently by being deprived of a limb, organ, or other body parts. Further, someone acts with malicious intent when either he or she intentionally does a wrongful act or when he or she acts with the unlawful intent to disturb, annoy, or injure an animal.
2. Related Offenses
Other similar or related offenses include:
Leaving a pet unattended in a vehicle – California Penal Code Section 597.7 PC
3. Examples of Cruelty to Animals
During the time that a dog owner is out of town, a local heat wave occurs requiring his dogs to consume more water than was accounted for. Because of the excessive heat, the dogs finish the water supply days before the dog owner is able to return home. As a result, the dogs are left without water for several days and suffer an injury. The man could be charged with cruelty to animals.
In another example, a defendant hoards a large quantity of cats that are being kept in a living space that is uninhabitable for them. This type of offense can also lead to criminal charges for animal cruelty.
4. Defenses to Cruelty to Animals
Self-defense and defense of others is a common defense to cruelty to animal charges. If an animal is attacking you or someone else the law allows you to use reasonable force to prevent the animal from attacking you or someone else. This is also an area of the law where there are often false allegations. Oftentimes, neighbors or ex-romantic partners can become jealous, upset, or angry and will fabricate claims of animal cruelty to get someone in trouble.
5. Penalties
If charged and convicted of a misdemeanor the possible penalties for animal cruelty can include a sentence of one year in county jail and a fine of up to $20,000.
If charged and convicted of a felony the sentence can include up to three years in state prison and a fine of $20,000.
6. Immigration Consequences for Cruelty to Animals
For those who are not United States citizens, which includes legal permanent residents, green card holders, those present on a valid visa and those without legal status, a conviction for cruelty to animals can result in deportation, exclusion from admission or denial of naturalization. Under Federal law, animal cruelty is categorically a crime involving moral turpitude and can lead to a non-citizen's deportation. This is why it is extremely important that anyone who has been accused, investigated, arrested for, or charged with animal cruelty contact a skilled criminal defense attorney.
7. Criminal Defense for Cruelty to Animals
Cruelty to animals is a criminal offense that can carry extensive criminal penalties. If you or someone you know has been charged with cruelty to animals, it is crucial that you speak with a reputable Los Angeles Criminal Defense Lawyer right away. Los Angeles Criminal Defense Attorney Michael Kraut is a former Deputy District Attorney with over 14 years of prosecutorial experience. Mr. Kraut is highly respected by judges, district attorneys and law enforcement officers as a skilled litigator who possesses a strong understanding of the law.
For more information about cruelty to animals, and to schedule your free consultation, contact Los Angeles Criminal Defense Lawyer Michael Kraut at the Kraut Law Group located at 6255 Sunset Boulevard, Suite 1520, Los Angeles, CA 90028. Mr. Kraut can be reached 24/7 at 888-334-6344 or 323-464-6453.