Offenses at the Airport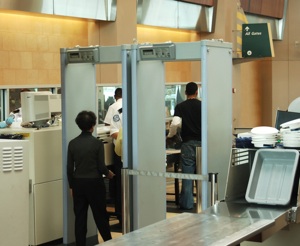 California Offenses at the Airport
For most people, getting arrested at a California airport sounds like the ultimate nightmare. The arrest could occur while travelling far from home and could be for something completely unintentional. This usually occurs when a person is arrested for possession of illegal drugs at the airport in violation of Health and Safety Code Section 11350(a), or if the person brings a weapon, whether legal or illegal, into the airport in violation of California Penal Code Section 12020(a).
Since 9/11, increased security and enforcement at all U.S. airports have led to greater scrutiny by law enforcement officials, and therefore an increase in discovery of criminal offenses occurring at the airport. This is true of all the major airports in the Los Angeles region, including LAX as well as the Burbank Airport, John Wayne Airport, and Long Beach Airport.
There are a number of offenses at the airport that individuals may find themselves accused of a crime. Sometimes people unwittingly have put an otherwise lawfully possessed weapon into their luggage. In other instances, a search or x-ray scan of bags or other items may turn up drugs or other illicit material, resulting in drug possession charges.
One common occurrence happens when people travel with marijuana. In this evolving area of the law, many states treat marijuana possession differently, and what is perfectly legal and lawful in an airport in one state is a criminal offense in another. Even in California, where marijuana has to a certain extent been decriminalized, someone who is entitled to possess and carry marijuana in their home state may be forbidden from having it in California if they do not have the proper license. Travelling between the two states via airplane often can lead to obvious problems, including Federal charges.
Criminal courts have granted an increased amount of flexibility to law enforcement officials in regards to how they conduct searches at airport facilities. This is due to concerns over issues such as terrorism. Therefore, luggage, purses, carry-ons and even pockets are fair game for law enforcement searches and inspections in the name of national security.
Even with the enhanced ability to search personal belongings, the Fourth Amendment to the U.S. Constitution, which prevents unreasonable searches and seizures, still applies to airports. Thus, if you are charged with a committing a crime at the airport, it is imperative that you have a skilled and knowledgeable defense attorney on your side. As a former deputy district attorney who has handled these types of offenses, Los Angeles Defense Attorney Michael Kraut understands how frightening this situation can be. Mr. Kraut is knowledgeable about what constitutes a lawful search, even at the airport, and has successfully challenged such the constitutionality of searches and seizures. Additionally, Mr. Kraut can often work with local law enforcement and prosecutorial agencies before charges have been filed to avoid charging in many circumstances. Mr. Kraut has successfully obtained diversion programs in these types of cases. But early intervention right after the arrest has occurred may make the difference. Therefore, it is important to immediately contact an attorney who handles these types of offenses at the airport. To schedule your free consultation, contact Los Angeles Defense Attorney Michael Kraut at the Kraut Law Group. Mr. Kraut can be reached 24/7 at 888-334-6344 or 323-464-6453.