Juvenile Crime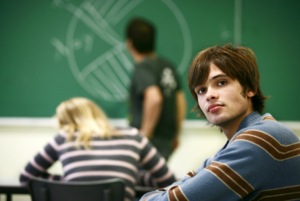 Los Angeles Juvenile Crimes and Juvenile Delinquency Defense Lawyer
A conviction of a Los Angeles juvenile crime can have a devastating effect on a family. In the past, most juvenile crimes were handled informally. Presently, a juvenile conviction is a serious matter and may result in serious future consequences for both you and your family. A conviction may result in the denial or revocation of a driver's license, denial of employment, schools refusing to give financial aide, and eviction from public housing. This can occur even if the offense is a minor one such as possession of marijuana. Juvenile courts have jurisdiction to hear cases of minors between the ages of 10 and 17 years old.
Additionally, a child will be either be placed on probation, imprisoned in a probation camp, sent to a juvenile prison and, in more serious crimes, the juvenile could be tied as an adult and sent to prison. Los Angeles juvenile criminal defense attorney Michael Kraut believes that your child needs an aggressive defense. An attorney who will fight for your child's rights, and if the judge is going to impose a consequence, then counseling and rehabilitation should be imposed rather then imprisonment.
Juvenile criminal defense can vary significantly. It is very important to have each case evaluated individually by a Los Angeles juvenile crime defense attorney at the Kraut Law Group. Our Southern California juvenile crime attorneys will review the specific facts of your son or daughter and will evaluate the best way to defend your child.
If your child has been arrested, charged, or is under investigation for a juvenile crime, you should consult with a juvenile crime defense attorney immediately. There could be alternatives that the prosecution is willing to consider other than filing a criminal case. It may be that your child was at the wrong place at the wrong time, or was nearby when another child committed the crime. It is important that you do not wait to hire a criminal defense attorney.
Juvenile cases are unique in that they can be dismissed at any stage of the proceedings by either the police, juvenile intake officer, prosecutor or the judge. Therefore, it is imperative to hire a Los Angeles and Southern California juvenile crime defense attorney as soon as you learn of the arrest or investigation of the minor so that charges, if filed, can be dismissed as soon as possible.
A juvenile crime is either a felony or a misdemeanor. The consequences may be very different. A strong and aggressive defense can make the difference. Filing a charge as a felony can result in very harsh and significant penalties.
In some cases, felonies committed by a juvenile may be filed as an adult. If that happens, then the case will be handled in adult court. These types of cases are usually reserved for the most serious of charges or in the case of a juvenile with a serious criminal record. The decision to file the case in adult court is determined by the prosecutor and the judge. Having an aggressive juvenile defense attorney can make the difference in convincing a judge or District Attorney to keep the case in juvenile court. Several factors are considered in determining whether to file the case in adult court. These factors include:
The severity of the crime and whether it was accomplished
The degree of criminal sophistication in committing the crime
The chance that rehabilitation rather then punishment will work
The previous criminal record of the juvenile
If the prosecutor determines the case will be filed in adult court then the juvenile case, if filed, will be dismissed. The case will now be filed in adult court as though the minor was an adult. The punishment in these cases can result in the juvenile being sent to the California Department of Corrections juvenile facilities called the California Youth Authority. A juvenile can be housed at the CYA until they are 25 years old. If they have more time on their sentence then they will be transferred to an adult prison to complete their sentence.
Juvenile crimes may include:
At the Kraut Law Group, Los Angeles criminal defense attorney Michael Kraut strongly believes that your child deserves a second chance and a strong aggressive defense. Hiring a Southern California juvenile crime defense attorney from the Kraut Law Group will give your child a fighting chance and a winning defense in their juvenile crimes case.
Attorney Michael Kraut understands that this is can be the most difficult time for both you and your family. He will defend your child as if they were his own. If your child has been investigated, arrested, or charged with a juvenile crime, then you should contact Los Angeles juvenile crime defense attorney immediately at (323) 464-6453 or (888) 334-6344.