Restraining Orders and Firearms for Work
Can Getting a Restraining Order Cause me to Lose my Job?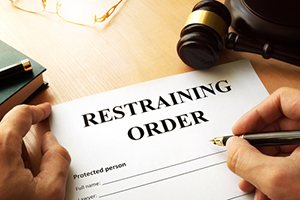 There are many careers in Los Angeles that require an individual to carry a firearm. Any member of the Military must be able to pick up a gun. Police Officers must also have a weapon on them while on the job, and nearly every officer keeps a firearm on their person at all times. Corrections Officers, while they might not carry a weapon during every assignment, are required to possess a firearm whenever a job assignment requires it. In addition to these well known government jobs, there are many private jobs that have firearm requirements, such as Bodyguards, Security Guards, and Outdoor Sporting Guides.
The short answer is yes, if you become a restrained party in a protective order, you will not be able to possess a firearm, and you will lose any job that requires you to carry a gun. There are several ways that an individual can get a restraining order issued against them. If you are accused of domestic violence, the court will automatically issue a Domestic Violence protective order. Even if you feel that the evidence is weak and you will surely be found Not Guilty, the court is required to assume the accusations are true for the purpose of the restraining order. So, while you are innocent until proven guilty, the Judge is still required to assume you did what you are accused of when the protective order is issued.
Protective orders can also issue due to a charge of child abuse or neglect. This can occur if a child is in the car during a DUI or reckless driving, or even if a child just wanders away from the home without being noticed immediately. A protective order can be issued by the court for elder abuse, which can mean simply misusing funds meant for an elderly person. If there is an altercation with family or strangers, you could be charged with battery. In addition to the protective order, a conviction for even a misdemeanor battery will result in a ten year ban on possessing a firearm. A felony conviction leads to a lifetime ban.
Is There a way to Keep my Job Even if There's a Restraining Order Against Me?
Luckily, there is an exception that will allow individuals to use their work firearm even if they are restrained under a protective order. However, if an attorney does not know how to properly prepare and argue for this exception, it can cost you your job long before the case has even gone to trial. The Code of Civil Procedure § 527.9(f) allows for a person to remain employed despite a restraining order and a firearm requirement at work. In order for a judge to grant this exception, it must be clear that you will lose your job if you can't have a gun. It can be necessary to prepare your job description and even have an HR representative present in court to present this information to the judge.
A mandatory psychological evaluation is required before the exception can be granted. The court uses that evaluation to determine whether the restrained party poses a threat of harm, and may order classes and counseling. If the evaluation is not completed by the first court date, the firearm restriction will go into effect, even if the judge was otherwise willing to grant the exception. Even if an evaluation is done, if it does not provide the court with enough information, it can result in termination from employment.
With an entire career on the line, you can not afford to waste time if you have been accused of domestic violence, battery, child neglect, elder abuse, or similar crimes. A protective order will issue, and you will use your job if you do not have a skilled attorney by your side.
If you or a loved one are the subject of a domestic violence protective order, it is critical that you discuss your situation with a qualified attorney as soon as possible. Michael Kraut is a former Deputy District Attorney with over 14 years of prosecutorial experience who is highly regarded as a top-notch litigator. Mr. Kraut fights hard on behalf of his clients who are charged criminally with domestic violence or who are the targets of a protective order.
For more information about domestic violence protective orders and to schedule your free consultation, contact Michael Kraut at the Kraut Law Group located at 6255 Sunset Boulevard, Suite 1520, Los Angeles, CA 90028. Mr. Kraut can be reached 24/7 at 888-334-6344 or 323-464-6453.