Unintentionally Resisting Arrest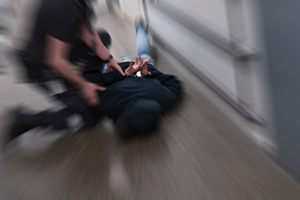 While many people may think of resisting arrest as a struggle against an officer who is attempting to handcuff a suspect, people may not realize full array of behaviors that can lead to an arrest in Los Angeles. While resisting arrest is generally a misdemeanor in California, there are related charges that can be brought as misdemeanors or felonies. And while a person may assume that they would not engage in an active struggle with a police officer, that person may not understand the full range of behaviors that could be classified as "resisting arrest."
You can be Charged With Resisting Non-Police Officers
Penal Code § 148 is the penal code for resisting arrest in California. But it also prohibits "obstructing" or "delaying" an officer in the performance of duties. This law includes emergency medical technicians. That means that if you are on the scene of a collision or another incident and EMTs are attempting to strap you down or inject you with something, and you try to prevent that from happening, you can be charged with a crime. If EMTs are performing their duty, and you cause them delay, you can be arrested for a misdemeanor.
You can be Charged for Doing Nothing
What would happen if a police officer decided to arrest you, and you stayed absolutely still, doing nothing? That could also be resisting arrest, and may lead to a criminal charge. Failure to respond to commands, even implied commands while being arrested, delays the officers in the performance of their duties. This is referred to as passive resistance and carries the same penalty as actively struggling with police officers.
Such a scenario may commonly occur in a protest setting, where even sitting in place without moving is at some point deemed illegal. However, such a case of "passive resistance" can occur without any trespassing or prior crime. Police officers are not always well trained in mental health issues. If a person is in the midst of a panic attack, they may be frozen, staring at the ground. If an officer misinterprets this pose as motivated by defiance, or drugs, the officer may attempt to physically move the frozen individual. The distressed individual may then want to just be still, or curl into a ball. Being grabbed and yelled at would likely only cause more panic, resulting in either limp stillness or rigid tenseness. If an officer continues in an attempt to make an arrest, even picking the person up and dragging them to a police car, that individual will likely end up with a criminal charge.
You can be Charged for Delaying Someone Else's Arrest
You can be charged with resisting arrest, even if no police officers were attempting to arrest you. If officers are lawfully performing their duties, and you obstruct them, you could be charged with a violation of Penal Code § 148. Perhaps you are a passenger in a car, fast asleep. The car stops, and you wake up as your friend, the driver, is taken out of the car. It may be natural for you to get out of the car and check on your friend. This can lead to a very dramatic response from officers if you were not given explicit permission to exit the car. If you at all insist on speaking to your friend when the officer orders you back into the car, or to another location, you could be charged with delaying or obstructing an investigation. This is true even if the officers were investigating your friend for a DUI, and your friend is completely sober. You could be the one that walks away with a criminal charge.
There are many ways to be accused of resisting arrest, and prosecutors traditionally take these charges very seriously, even if the underlying conduct would seem minor to the general public. This is rooted in prosecutors wanting to protect police from accusations of misconduct or wrongful arrest lawsuits. While it is legally inappropriate to pursue a criminal charge against an individual for the purpose of protecting a police officer, the practice persists throughout Los Angeles, California, and the United States as a whole. That's why it is important to have an attorney who understands how prosecution decisions get made, why prosecutors dig in their heels for minor charges, and how to overcome these obstacles.
If you or someone you know have been charged with or accused of Resisting Arrest, it is important that you consult with a Los Angeles Criminal Defense Attorney immediately. As a former Deputy District Attorney with over 14 years of prosecutorial experience, Los Angeles Criminal Defense Attorney Michael Kraut is highly adept at defending cases of this nature. Mr. Kraut is highly regarded throughout the court system as a fierce defender of his clients' rights.
For more information about Resisting Arrest, and to schedule your free consultation, contact Los Angeles Criminal Defense Attorney Michael Kraut at the Kraut Law Group located at 6255 Sunset Boulevard, Suite 1520, Los Angeles, CA 90028. Mr. Kraut can be reached 24/7 at 888-334-6344 or 323-464-6453.