GPS And The Fourth Amendment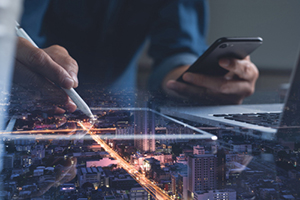 The Fourth Amendment to the United States Constitution protects citizens from unlawful searches and seizures. An important part of Fourth Amendment law involves determining where citizens have a reasonable expectation of privacy. People generally have no expectation of privacy, as to their location, when they are travelling in public in a place where anyone could observe them. This means that when people walk down the street, it is not considered a violation of their privacy if police officers follow them, even if the officers use cameras and helicopters.
As location technology developed, law enforcement agencies in Los Angeles assumed that they could use any technology to track public movements without obtaining a search warrant. Police used early wireless devices, such as pagers, to track packages and people, and courts generally approved. With the advancement of global positioning satellite technology, the available devices and methods for tracking movement expanded beyond what anyone could have anticipated when manpower was the main driver of surveillance. Police officers would slide under a car and attach a GPS tracker with a magnet or even screws. Then they could sit back and track every movement of the car with minimal effort, except when they had to sneak back under the car to change the batteries on the tracker.
United States V. Jones
GPS tracking was particularly helpful in drug cases. Officers could take a suspected drug dealer, or even a customer, and secretly track the individual's car as it visited drug houses, distributors, multiple sales locations, and cash stash spots. All of this could be done without a warrant, so actually getting a warrant was considered an extra-careful approach. When Washington D.C. police officers wanted to surveil a local club owner, Antoine Jones, they did get a warrant to use a GPS tracker on his vehicle. However, when it was easier to attach the tracker in Maryland, they did, even though they knew the warrant wasn't good in Maryland. They didn't think that it would be a problem.
In about a month the police had two thousand pages of location data to use. They used his location to find nearly a million dollars of drug money and one hundred kilos of cocaine. Jones was eventually convicted. However, seven years after it was placed, the United States Supreme Court was still considering that same GPS tracker. The Court in US v. Jones held that a warrant was required for the use of a GPS tracker placed on the vehicle. Because the officers were a day late in complying with the warrant, and were out of the approved jurisdiction, the GPS data was considered warrantless and could not be used against Jones.
The Court explored the ways that the modern standard of "expectation of privacy" was not completely separate from the trespass notions on which search and seizure law had once been solely based. While it was fair to argue that the location of one's vehicle is not something private, the officers nonetheless trespassed by attaching a device to the car. Furthermore, the differences between visual surveillance and constant electronic surveillance was not lost on the Court. GPS technology could allow hundreds of people to be surveilled 24/7 by even a small police department. In the face of such a degradation in privacy, a warrant requirement was erected.
Technology is constantly evolving, and each new search technique requires a Fourth Amendment analysis. Technology advances more quickly than courts move, which means that a search that is widely used today may be declared improper in five years. But by then, many new technological searches will have emerged. For an individual that has been the subject of a police search in Los Angeles, it is essential to seek out an attorney who does not merely accept the status quo, but who can see violations of the Fourth Amendment before the courts have even had time to rule on them. A suppression motion can keep such evidence out of court, which often leads to charges being thrown out.
If you are facing criminal charges, it is important that you consult with a Los Angeles Criminal Defense Lawyer immediately. Los Angeles Criminal Defense Attorney Michael Kraut is a former Deputy District Attorney with over 14 years of prosecutorial experience who knows how to effectively litigate search and seizure issues on behalf of his clients.
For more information about Los Angeles police investigations, contact Los Angeles Criminal Defense Attorney Michael Kraut at the Kraut Law Group located at 6255 Sunset Boulevard, Suite 1520, Los Angeles, CA 90028. Mr. Kraut can be reached 24/7 at 888-334-6344 or 323-464-6453.