Burbank White Collar Crimes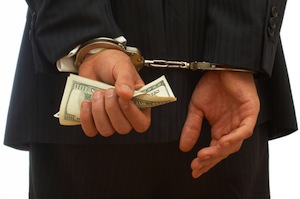 Investigation and prosecution of white collar crimes in Burbank has increased steadily in recent years and more people in Burbank are charged with white collar offenses than ever before. White collar investigations and prosecutions can be harrowing experiences for those targeted, and a qualified Burbank White Collar Criminal Defense Attorney should be consulted as early in the process as possible. Burbank White Collar Defense Lawyer Michael Kraut previously prosecuted white collar crimes as part of the elite Major Fraud Division of the Los Angeles County District Attorney's Office. Mr. Kraut has over 14 years of prior prosecutorial experience and is considered to be one of the top white collar defense attorneys in the Burbank area. In fact, judges, prosecutors and law enforcement officers often seek out Mr. Kraut's assistance when members of their family are in trouble.
The term "white collar crime" can describe a wide range of criminal offenses involving theft and fraud. Some white collar crimes are minor misdemeanors while others are serious felonies that carry heavy prison sentences for those convicted. White collar crimes in the Burbank area can be prosecuted in different venues depending on the circumstances of the crime. Offenses can be prosecuted by the U.S. Attorney in Federal Court, by the Los Angeles District Attorney's Office at the Burbank Courthouse located at 300 East Olive Avenue, Burbank, CA 91502 or by the Burbank City Attorney also at the Burbank Courthouse.
One of the most prevalent white collar crimes in Burbank is embezzlement pursuant to California Penal Code Section 503 PC. When a person in a position of trust steals money from an employer, client or other source by taking advantage of this trust position, that person could be charged with theft by embezzlement.
Another frequently prosecuted white collar crime in Burbank is Health Care fraud, in which health care professionals are accused of fraudulently billing private and public insurers, including state programs like Medi-Cal and Denti-Cal. These types of investigations typically begin with the service and execution of a search warrant on the offices of a doctor, dentist, chiropractor or other medical professional. Law enforcement officers will review financial records to see if there is evidence of fraudulent activity.
Many of the professionals who are investigated or charged with a white collar offense have no criminal record and have no experience in dealing with the criminal justice system. Being convicted of a white collar crime can potentially carry severe and far-reaching consequences, including prison. This is why it is critical that a Burbank white collar criminal defense attorney be retained as early in the investigation process as possible. In many cases, a skilled white collar defense attorney can work with investigators and prosecutors to minimize and in some cases even prevent a criminal filing.
White collar crimes are unique when compared to other criminal offenses and often require different defense strategies. These types of cases often involve vast amounts of discovery and the investigation and prosecution of white collar offenses can last for months or even years. To prove a case, law enforcement may need a confession or admission from a suspect, and suspects will often be pressured to give statements right away. In some cases, a white collar suspect may even be subpoenaed to testify before the grand jury.
Conviction of a white collar crime can devastate a person's professional and personal reputation. In fact, merely being investigated for this type of offense can often prove ruinous to a person's business. For many of these cases, the state is allowed to seize assets of the defendant, including homes, cars and financial accounts under state forfeiture laws.
Frequently-charged white collar crimes in the Burbank area include the following offenses:
Mortgage Fraud in Burbank
Burbank White Collar Crime: Definitions
Under California Penal Code Section 503 PC the crime of embezzlement is committed by a person in a position of trust who misappropriates the property and money in his or her care. In many prosecutions for this offense, the defendant is an accountant, bookkeeper, bank employee or other person who has access to company funds and accounts.
Under California Penal Code Section 67 PC and California Penal Code Section 68 PC, it is illegal to offer or agree to receive a bribe. A bribe is an offer of cash or something of value to someone that is presented with the express intent to influence that other person's actions. Under the bribery statutes, both the person presenting a bribe and the person receiving one can be prosecuted.
Another prominent white collar crime in Burbank is forgery pursuant to California Penal Code Section 470 PC. A person commits forgery when he or she is involved in creating false or fraudulent documents, signatures, checks or official seals in order to promote a fraud. Forgery schemes can be complex, involving printing presses and advanced manufacturing technology, or can involve the simple act of forging a signature.
Extortion schemes are considered white collar crimes under California Penal Code Section 518 PC and can result in severe penalties for those convicted. Extortion involves using threats of violence or threats to reveal an embarrassing secret in order to get someone else to pay or provide something of value.
Fraud in Burbank
Fraud crimes encompass a wide range of criminal behavior that share the common goal of obtaining money or property via trick or artifice. Fraud is considered a Burbank theft crime that can be punished severely depending on the underlying circumstances and extent of the theft.
Insurance providers are often targeted for fraud schemes, with offenders claiming a false loss or claim in order to fraudulently obtain compensation. In Burbank, insurance fraud can include automobile insurance fraud, health care fraud, welfare fraud and workers' compensation fraud.
Another frequently filed white collar offense is the crime of perjury under California Penal Code Section 118 PC. Perjury occurs when a person makes a false statement while under oath. This can happen during a trial or in a deposition. More commonly, perjury is filed when a person signs a document under penalty of perjury while knowing that the document contains false information. Prosecutors tend to favor perjury charges because they are easier to prove than other white collar offenses and can carry significant penalties.
The Burbank White Collar Criminal Process: Arrest to Expungement
White collar criminal offenses can include both misdemeanor and felony charges. For those convicted of felony level white collar crimes, significant penalties can be imposed including lengthy prison sentences. White collar crimes are typically investigated and prosecuted by specialized units within law enforcement and the investigation phase can last for months or even years. Because of this, it is very important that those being investigated for a white collar offense retain a Burbank White Collar Defense Lawyer as soon into the process as possible. The early involvement of a qualified attorney can often make the difference as to whether criminal charges are ever filed against a white collar suspect.
For those charged with felonies, the Burbank white collar criminal process will often begin with prosecutors filing a criminal complaint and requesting that a judge issue an arrest warrant for the defendant based on this complaint. Shortly after the defendant is picked up on the warrant, he or she will appear before a judge at the Burbank Courthouse for arraignment proceedings. At arraignment, the defendant is informed of the pending charges and is asked to enter a plea. Also at arraignment, bail can be argued by the prosecutor and the defendant. In many white collar cases, prosecutors will submit a California Penal Code Section 1275 PC motion requiring that any funds posted for bail must first be reviewed to make sure that money did not come from an illegal source.
For those charged with a felony, the next court appearance would be either an early disposition hearing or a preliminary hearing. A defendant is entitled to a preliminary hearing within 10 days or his or her arraignment unless that defendant waives this time requirement. The preliminary hearing is where the prosecution must present the evidence against the defendant to a judge, who then would decide whether or not the defendant should be held to answer for the felony offense. The prosecutor will call witnesses and present evidence. The defendant is given an opportunity to cross examine the People's witnesses, challenge the admissibility of evidence, call his or her own witnesses and to testify on his or her own behalf.
If held to answer, the defendant would have to return for a felony arraignment to once again enter a plea to the charges in the People's filed felony information. Bail can be reargued at this point. After being arraigned on the information, the defendant must be brought to trial within 60 days unless he or she again waives time.
Prior to going to trial, there are often several intermediary pretrial hearings where many issues are addressed and resolved. During the various pretrial hearings the prosecutor and the defense may try to reach a resolution via plea negotiations. If the parties are unable to reach a resolution, the defendant's case would proceed to trial.
Someone charged with either a felony or misdemeanor is constitutionally entitled to be tried before a jury of his or her peers. The jury consists of 12 jurors taken from the general population who are charged with returning a verdict of guilty or not guilty. The prosecution and the defense are allowed to present their case to the jury through evidence, testimony and argument. White collar cases can involve complicated fact scenarios and substantial amounts of evidence. As a result, trials for these matters can last for weeks and even months. The prosecutor at trial must prove to the jury that the defendant is guilty beyond a reasonable doubt. After hearing closing arguments and receiving instructions from the judge, the jury must deliberate until they reach a unanimous verdict. If they are deadlocked and cannot agree on a verdict, a mistrial will be declared and the case may or may not be retried. If the defendant is found not guilty, the process would end and he or she would be released. If found guilty, the defendant would next be sentenced by the judge.
The terms of the sentence must fit within the statutory guidelines, however a judge does have some flexibility when imposing a sentence. At sentencing, the judge will announce the terms of the sentence and the defendant would then be expected to follow these terms and conditions. Defendants do have a right to appeal the guilty verdict and if they did this their case would be reviewed by an appellate court for any legal or procedural issues that may have been handled incorrectly by the lower court.
Once a defendant has completed probation, he or she may be eligible for an expungement for many white collar crimes. Under California Penal Code Section 1203.4 PC, expunging the conviction would vacate the original guilty verdict and retroactively dismiss the charges.
If you or a loved one are dealing with a white collar criminal investigation in the Burbank area, it is very important that you get in touch with an established Burbank White Collar Defense Attorney right away. As a former Deputy District Attorney with over 14 years of prosecutorial experience, Burbank White Collar Defense Attorney Michael Kraut has the skills and experience to effectively defend white collar cases. Mr. Kraut previously prosecuted these offenses as part of the Los Angeles County District Attorney Office's elite Major Fraud Division and is now considered to be a top-ranked white collar defense attorney.
For more information about Burbank white collar crimes, and to schedule your free consultation, contact Burbank Criminal Defense Lawyer Michael Kraut at the Kraut Law Group located at 2600 West Olive Avenue, 5th Floor, Burbank, CA 91505. Mr. Kraut can be reached 24/7 at 888-334-6344 or 818-563-9810.