California Penal Code Section 470 PC: Forgery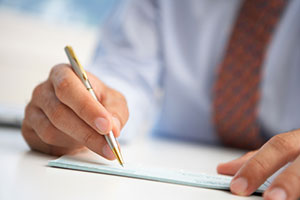 1. Definition and Elements of the Crime
Forgery under California Penal Code Section 470 PC, is a white collar crime that involves falsifying a signature or seal or counterfeiting documents as part of a fraud scheme.
A forgery offense can be committed in the following ways:
By signing someone else's name without the other person's authority (California Penal Code Section 470(a) PC)
By counterfeiting or forging another person's handwriting or seal on a document (California Penal Code Section 470(b) PC)
By altering, corrupting or falsifying legal documents (wills, property conveyances, court records or any other legal writing that can be used as evidence in a court of law) (California Penal Code Section 470(c) PC)
By falsifying, altering, counterfeiting, publishing or uttering any of the following documents (California Penal Code Section 470(d) PC)

Checks
Bonds
Bank bills/notes
Cashier's check
Traveler's check
Money Order
Lottery tickets
Stock certificates
Property Deeds
Leases on real property
Contracts
And other items listed in the statute
To prove that the defendant committed forgery, a prosecutor must be able to establish that:
The defendant committed one of the forgery acts listed above AND
He or she acted with the specific intent to defraud someone else or an institution
2. Related Offenses
Other similar or related offenses include:
3. Examples
A man finds a checkbook in the street and proceeds to write a check to himself. He cashes the check at the bank and endorses it by faking the check owner's signature on the back of the check. In addition to check fraud, the man could be prosecuted for forgery under California Penal Code Section 470(a) because he forged the signature of another on a financial instrument.
In the same example, the man writes out a check from the stolen checkbook and gives the check to his wife, who knows the checkbook is stolen. The wife then tries to pay for items in a store using that check. Even though the wife did not actually forge a signature on the check, she could be charged with forgery under California Penal Code Section 470(d) because she tried to "publish" the check by passing it off as valid in the store.
4. Defenses to Forgery
The crime of forgery requires intent to defraud. In many cases, a person may sign for another person because they believe they had the authority to do so. These people would not be guilty of forgery because they did not have the specific intent required by the forgery statute.
Additionally, the document faked or forged must be connected to a scheme to defraud another of money or property. If the document faked was a false letter of recommendation, a fake endorsement or fake news article, the drafter would not be charged with forgery unless the document was used to defraud someone.
5. Penalties
Forgery is a "wobbler" offense that can be charged as either a felony or a misdemeanor. In making a filing decision, a prosecutor will consider factors such as the criminal history of the defendant, the magnitude of the fraud offense involved and the amount of loss suffered, if any. If charged as a misdemeanor, the defendant can be sentenced to up to a year in jail, restitution to the victim and substantial court fines. If charged as a felony, the defendant can potentially be sentenced to up to three years in prison, in addition to fines and restitution.
6. Criminal Defense for Forgery Cases
If you are under investigation for a forgery-related offense, it is critical that you meet with a Los Angeles Criminal Defense Attorney as soon as possible. Los Angeles Criminal Defense Attorney Michael Kraut is a former Deputy District Attorney with over 14 years of prosecutorial experience who previously prosecuted white collar offenses as part of the District Attorney's elite Major Fraud Unit. Mr. Kraut's wealth of experience has proven invaluable to his clients charged with forgery and related white collar offenses.
For more information about forgery, and to schedule your free consultation, contact Los Angeles Criminal Defense Attorney Michael Kraut at the Kraut Criminal & DUI Lawyers located at 6255 Sunset Boulevard, Suite 1520, Los Angeles, CA 90028. Mr. Kraut can be reached 24/7 at 888-334-6344 or 323-464-6453.