Health Care Fraud and Insurance Fraud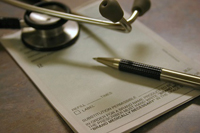 Los Angeles Health Care Professional Defense Lawyer
Health care fraud prosecution has become a top priority of law enforcement over the past few years. The Los Angeles health care fraud defense attorney Michael Kraut has extensive experience in handling Southern California fraud cases involving health care. Prior to opening the Kraut Criminal & DUI Lawyers, Mr. Kraut was a prosecutor assigned to the elite Major Frauds Division where he was responsible for handling complex fraud cases, including insurance fraud. Mr. Kraut is proud that law enforcement, prosecutors and judges urn to him to represent their family members when they have problems in the criminal justice system.
Mr. Kraut was educated at Harvard Law School and worked for as a senior prosecutor for over 14 years. He has an outstanding record of over 99% success at jury trial on behalf of his clients. He knows how law enforcement and prosecutors assemble a health care fraud case and knows how to attack their evidence in order to protect his clients. Mr. Kraut represents physicians, therapists and other professionals who are being investigated, or charged with health care fraud or false or misleading billing practices.
The Kraut Criminal & DUI Lawyers also intervenes when health care companies or insurance companies question the validity of an insurance bill.As health care costs have increased, insurance companies have put increased pressure of prosecutors to charge doctors, dentists, nurses and other health care professionals with serious felony crimes.
Law enforcement has been given grants from the State to assist in the identification of Southern California health care fraud. Often times these investigations begin with a phone call to a tip line. The resources that local law enforcement expends on health care fraud extends well beyond the primary care personnel to medical testing laboratories, equipment suppliers, residential care facilities, group homes, hospitals, and ambulance companies. In effect, any person or organization that bill for health services may be subject to healthcare fraud investigations and prosecutions.
Most Los Angeles health care fraud is charged pursuant to Insurance Code Section 1871.4. In addition, most of these cases also have a Penal Code Section 550 charge. The section is used when the person making the insurance claim makes a false material statement to either obtain, or deny insurance benefits. Because the insurance claim is based upon a false statement the prosecutor will also file a perjury charge pursuant to Penal Code Section 118. In some instances the employer who is charged with a health care fraud will violate Labor Code Section 3700. This section is a misdemeanor and is filed in the court documents for those who claim that an employee has no coverage for a workers compensation claim, when in fact the employee is covered by the benefit.
Insurance Fraud by Attorneys
As the economy has tightened, insurance companies are evaluating and scrutinizing insurance lawsuits like never before. In many instances, insurance companies are seeing a pattern of law firms using illegal "cappers" to get clients and stage auto accidents.
Lawyers who are accused of this crime will often find themselves having search warrants executed against their firms and bank accounts. If convicted of insurance fraud then you face loss of your professional license, prison time, fines and significant restitution that could amount to hundreds of thousands of dollars. If you are an attorney and are under investigation or been arrested for insurance fraud, contact Los Angeles Health Care Fraud Attorney Michael Kraut. He has the experience and back ground to aggressively represent you. Insurance
Fraud by Doctors
Insurance companies no longer pay doctors and physicians as much for their services as they did years ago. As the insurance companies have tightened the belt on doctors, there has been an increase in the number of doctors being referred for criminal prosecution for health care fraud in their billing. The insurance companies pay investigators to reviews medical claims to determine if the claims contain any fraud. When the investigator finds fraud, the cases are referred to law enforcement for prosecution. Most of these cases are for billing fraud. Billing fraud may be that a doctor billed for more procedures then actually performed, or in more serious cases, the patient never had any work performed at the doctor's office. In these instances, the doctor may face significant prison sentences as well as loss of their license from the California Medical Board.
If you are a physician and have a search warrant executed in which prosecutors or State investigators have seized patient records, then you should immediately contact California Insurance Fraud Defense Attorney Michael Kraut for his free confidential consultation. As a former prosecutor, Mr. Kraut knows how to protect his clients who are doctors from claims of insurance fraud.
Health Care Fraud and Insurance Fraud includes the following:
Billing insurance carriers for healthcare that was not performed
Requesting unnecessary patient testing
Falsifying medical records
Providing excessive unnecessary procedures
Double billing for work performed
Prescribing unnecessary medicines
Billing for emergency services when they were not provided
The punishment for a conviction of health care fraud includes: Imprisonment in state prison or jail, loss of professional license, parole or probation, substantial fines and court costs, restitution that could include all monies collect from insurance agencies, an inability to be a Medicare or Medi-Cal provider in the future.In most cases, law enforcement is working hand in hand with local prosecutors to assemble a substantial case against a health care provider. Often, health care professionals already know they are under investigation because they may have had search warrants executed at their work place, home, or bank accounts. After a search, it will take a substantial amount of time before charges are filed
If you are a health care provider, or work in the medical field, and have been investigated, arrested or charged with a health care fraud offense, it is important to consult with a Los Angeles health care fraud defense attorney at the Kraut Criminal & DUI Lawyers. Your career and your freedom may depend on getting the top professional representation that will provide you an aggressive defense.
If you have been charged with a Riverside Health care fraud, a San Bernardino health care fraud, an Orange County health care fraud it is important that you seek the services of a criminal defense attorney with extensive experience in these types of cases. Mr. Kraut has handled Pasadena Insurance Fraud cases as well as represented Beverly Hills Insurance Fraud clients.
Mr. Kraut understands the serious nature of this offense, how best to defend you, and how to resolve your case without you going to jail. Mr. Kraut has extensive knowledge of the law and the legal system. He has developed excellent relationships with law enforcement and law officials throughout the Los Angeles and Southern California.
Pasadena Insurance Fraud Defense Lawyer
Mr. Kraut has spent a significant amount of time representing doctors and other professionals charged with medical billing. insurance fraud and health care fraud throughout Pasadena.

Beverly Hills Insurance Fraud Defense Lawyer
Beverly Hills is one of the most concentrated area for doctors working who accept insurance as a form of payment. Because of the number doctors in one place, State investigators seem to be spending more time in this small southern California city trying to catch physicians committed health care or insurance fraud in Beverly Hills. The investigators are looking for medical records that prove that services were not rendered as claimed by the doctor.
For more information about your Southern California Health Care Fraud or Insurance Fraud case call to schedule your free consultation, contact Michael Kraut at the Kraut Criminal & DUI Lawyers. Mr. Kraut can be reached 24/7 at 888-334-6344 or 323-464-6453.