California Penal Code Section 641.3 PC: Commercial Bribery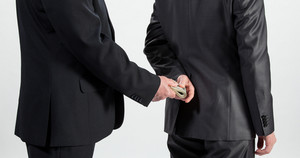 1. Definition and Elements of the Crime
Bribery is usually thought of as a crime associated with the public sector. People may think about bribery involving jurors, legislators or public officials. However bribery can be prosecuted when it occurs in the private sector as well. Under California Penal Code Section 641.3 PC, commercial bribery is a serious criminal offense that may result in severe punishments.
In order to prove a charge of commercial bribery, a prosecutor must be able to establish the following elements:
The defendant is an employee who solicits, accepts or agrees to accept, with corrupt intent
$250 or more
From someone other than his or her employer (or the employer's agent)
Without the knowledge or consent of his employer
In exchange for using his or her position to convey a benefit on the other person.
California Penal Code Section 631.3 PC applies equally to employees receiving or soliciting bribes as well as to the person offering bribes. Both can be convicted of commercial bribery under the statute. The commercial bribery statute is intended to protect company loyalty and to make sure that employees are not trying to actively undermine their employers and the companies they work for.
2. Related Offenses
Similar offenses include the following:
3. Examples
A man works for a large manufacturer and is in charge of purchasing raw materials in bulk. A supplier of these materials buys the man lunch and delivers a sales pitch in hopes of getting the contract with the manufacturer. The man listens to the sales pitch and determines it is fair. He also enjoys the lunch at his favorite restaurant. As a result, the man decides to award the contract to this raw material supplier. Both parties would not be guilty of commercial bribery in this situation, because even though the supplier bought lunch for the man, the price terms were fair and the company was not harmed.
In a similar example, the raw material supplier knows his materials are below market grade, however he wants to win the contract with the manufacturer. He offers to give the manufacturer's representative a $10,000 "appreciation fee" if he is awarded the contract. The man takes the money and awards the contract to the material supplier, which ultimately harms the company he works for. Both the man and the material supplier could be charged with commercial bribery under California Penal Code Section 641.3 PC in this scenario, as they engaged in a scheme to undermine the man's employer via a bribe.
4. Defenses to Commercial Bribery
Commercial bribery is a specific intent crime that requires the defendant accept or make a bribe with corrupt intent. There may be situations in which a gift or other act is offered or accepted innocently without this intent. In these cases, the defendant would have a valid defense if charged criminally with commercial bribery.
5. Penalties
Commercial bribery is an offense that can be a misdemeanor or a felony, depending on the amount of the bribe involved. If the bribe is $1,000 or less, a defendant can be sentenced to jail for up to a year. For bribes in excess of $1,000, the defendant can be sent to prison for up to three years if convicted.
6. Criminal Defense for Commercial Bribery
If you or a loved one have been accused of commercial bribery it is very important that you speak with a Los Angeles Criminal Defense Attorney right away. Los Angeles Criminal Defense Lawyer Michael Kraut is a former Deputy District Attorney with over 14 years of prosecutorial experience who previously prosecuted white collar crimes as a member of the Los Angeles County District Attorney's elite Major Fraud Division. Mr. Kraut is highly regarded in this area and maintains relationships with law enforcement personnel and prosecutors.
For more information about commercial bribery, and to schedule your free consultation, contact Los Angeles Criminal Defense Lawyer Michael Kraut at the Kraut Law Group located at 6255 Sunset Boulevard, Suite 1520, Los Angeles, CA 90028. Mr. Kraut can be reached 24/7 at 888-334-6344 or 323-464-6453.