Burbank Preliminary Alcohol Screening Tests
Burbank DUI Attorney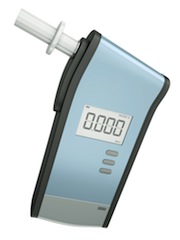 DUI suspects in Burbank are generally asked to provide breath samples as part of the Burbank DUI Process on two separate occasions; at the site of the arrest using a portable Preliminary Alcohol Screening ("PAS") device and later at the station on a stationary Breathalyzer machine. Both devices use similar technology to analyze a subject's breath sample to determine blood alcohol content and provide a numeric result. While the portable PAS device is much smaller than the bulky Breathalyzer machine and is carried by nearly all officers on DUI patrol in Burbank, it is generally understood to be the less reliable form of breath testing for a variety of reasons.
The PAS device was designed with portability in mind. When it was first used by law enforcement, the PAS device could only be used to show the existence, but not the level, of alcohol in one's system. PAS results can be affected by a number of external factors, including temperature, weather conditions, and how the device has been handled. In most cases, the PAS test is used by law enforcement officers in Burbank as the last step in a DUI investigation before making the decision to arrest a DUI suspect.
While PAS results were previously not allowed to be introduced as evidence in DUI cases, courts loosened the restrictions on PAS tests results. This is mainly due to the introduction of the Evidentiary PAS ("E-PAS") device, which is a PAS device equipped with a small printer that can immediately provide evidence of PAS result readings.
For most drivers, the PAS test is an optional test that is not required. The PAS test is mandatory for drivers who are already on DUI probation or for drivers under the age of 21. Law enforcement officers may tell DUI suspects that the PAS is mandatory or that failure to take the PAS test would result in an automatic loss of license, however this is not true for drivers who do not fall under one of the specified exceptions.
The reason that the PAS test is required for Burbank drivers who are under 21 or who are on DUI probation is that these drivers cannot drive with any measurable amount of alcohol in their system. Because the PAS test is the only form of chemical testing that can be conducted right at or very close to the time of driving, it is permitted to show that someone subject to zero tolerance restrictions drove with low levels of alcohol in their system.
Even though the PAS test is not required, those who do take a PAS test must remember that doing so does not satisfy their obligation to submit to formal chemical testing, specifically the Breathalyzer or blood test. If these drivers take the PAS but refuse further testing, they could actually be charged with DUI under California Vehicle Code Section 23152(a) VC in addition to the refusal allegation, which adds penalties and triggers a year-long license suspension.
There are times when PAS test results can actually come in handy in crafting a successful Burbank DUI defense. If the results of the PAS test and Breathalyzer test vary widely, there would be an argument that one or both of the devices was faulty at the time of the arrest. In addition, PAS results may prove that a DUI defendant was experiencing a rising blood alcohol at the time they were arrested and subsequently tested. When a person drinks alcohol, it is absorbed into his or her body over time and the blood alcohol level rises slowly, plateaus and then falls. If the PAS test results are at or close to the legal limit (0.08) and the subsequent chemical testing results are higher, there is a strong argument that the driver was experiencing a rising blood alcohol and was actually under 0.08 at the time of driving. Alternatively, if the PAS results show a falling blood alcohol, this may ultimately harm a DUI defendant in Burbank.
If you have been arrested for a Burbank DUI offense, it is critical that you speak with an established and experienced Burbank DUI attorney as soon as possible. Burbank DUI Attorney Michael Kraut is a former Deputy District Attorney with over 14 years of prosecutorial experience, including a rotation as a Senior Trial Prosecutor at the Burbank Courthouse. Mr. Kraut is highly respected throughout the Burbank legal community for his extensive knowledge of DUI practice and procedure.
For more information about Burbank PAS tests, and to schedule your free consultation, contact Burbank DUI Defense Lawyer Michael Kraut at the Kraut Law Group located at 2600 West Olive Avenue, 5th Floor, Burbank, CA 91505. Mr. Kraut can be reached 24/7 at 888-334-6344 or 818-563-9810.