Burbank Driver's License Suspension by Police
Burbank DUI Attorney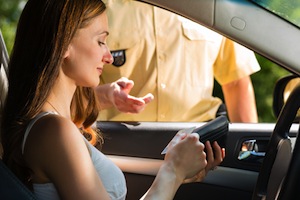 During the Burbank DUI arrest process, numerous important actions are taken that can have long-lasting effects for the person arrested. While it is easy to focus on the criminal aspect of the DUI event and potential charges that may be filed, at the time of arrest the driver will have his or her driver's license seized by the arresting officer and will then receive notification of a forthcoming driver's license suspension by police that would go into effect 30 days later.
Unlike the court case which would first be evaluated by the Burbank City Attorney or the Los Angeles County District Attorney's Office before criminal charges are filed, the license suspension automatically goes into effect unless the driver (or his or her attorney) proactively contests it with the California Department of Motor Vehicles. The law enforcement agency initiating the license suspension may be the Burbank Police Department, California Highway Patrol, Los Angeles County Sheriff's Department or any of the other agencies operating out of the Burbank region.
California authorizes driver's license suspensions for drivers who have a blood alcohol content of 0.08 percent or higher. The arrested driver's BAC may be known at the time of arrest if he or she takes the breath test or the BAC may be unknown if the drivers opts to take a blood test or refuses testing altogether. In either case, the license suspension will be triggered. For Burbank drivers who refuse to submit to chemical testing, their license will be suspended for a full year.
The DUI driver would be given a pink notification paper that would provide details about the forthcoming DMV license suspension and would also serve as a temporary license during the 30 days before the suspension goes into effect.
The suspension of driving privileges is considered an administrative action imposed by the Department of Motor Vehicles, with the arresting officer acting as the agent of service who provides notice to the driver. The DMV and DUI Suspension Code as enforced by the DMV controls the specific parameters of the license suspension. The suspension itself will depend on certain factors, including:
Whether the driver has any prior DUI related court convictions or license suspensions, regardless of what state they occurred.
If the driver was on probation for DUI or was serving a DUI-related driving suspension when this current incident occurred
If the driver agreed to submit to chemical testing, or if he or she refused.
If the driver was not 21 or older.
Whether or not the driver had alcohol in his system or drugs.
If the driver had a commercial or non-commercial license.
A typical Burbank DUI driver's license suspension for a first time DUI driver who is old enough to drink and who submits to chemical testing lasts for four months. While this may seem like a long time to refrain from driving, the DMV does offer drivers the opportunity to get a restricted license once they have gone 30 days without driving. To qualify for a restricted license, the driver must enroll in an alcohol education class, obtain supplemental insurance (also known as SR-22 coverage) and pay the mandatory reinstatement fee. With a restricted license, the driver would be able to drive for work purposes and to go to his or her alcohol education class.
The license suspension would be longer for drivers with prior DUI incidents or suspensions, for those who were underage at the time they were arrested and for those who refused to submit to chemical testing. For people in these categories, the suspension period is at least a year and there is generally no opportunity for a restricted license. In certain cases, drivers with prior DUI convictions who are no longer on probation would be able to get a restricted license after a conviction has been entered in their court case and after 90 days of the suspension has been served. This restricted license requires the driver to put an Ignition Interlock Device ("IID") in their vehicle that would not allow the car to start or operate if the driver has consumed alcohol. The driver would be required to breathe into a tube connected to the car every few minutes that would test for the existence of alcohol.
If you have been arrested for a Burbank DUI offense it is crucial that you consult with a Burbank DUI Defense Lawyer right away as the license suspension can only be challenged if certain immediate deadlines are met. Burbank DUI Attorney Michael Kraut is a former Deputy District Attorney with over 14 years of prosecutorial experience who has had tremendous success in fighting both criminal charges of DUI as well as the administrative license suspension.
For more information about the Burbank driver's license suspension by police, and to schedule your free consultation, contact Burbank DUI Defense Attorney Michael Kraut at the Kraut Law Group located at 2600 West Olive Avenue, 5th Floor, Burbank, CA 91505. Mr. Kraut can be reached 24/7 at 818-563-9810.