Pasadena Juvenile Crime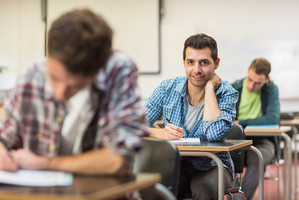 Pasadena juvenile offenses can often be devastating ordeals that cause immense amounts of stress for all involved. The effects of a juvenile delinquency adjudication can be far-reaching, and a conviction or adjudication can carry numerous consequences, including loss or delay of driving privileges, inability to secure employment, inability to qualify for financial aid packages and even public housing eviction. The Juvenile Courts hear most offenses in which the accused minor is between the ages of 10 and 17. In Pasadena, juvenile matters are handled at the Pasadena Courthouse located at 300 East Walnut Avenue, Pasadena, CA 91101 and are prosecuted by the Los Angeles County District Attorney's Office - Pasadena Juvenile Office.
Juvenile offenses may include, but are not limited to, the following crimes:
Driving under the influence (DUI) - California Vehicle Code Section 23152(a) VC and California Vehicle Code Section 23152(b) VC
Possession of Alcohol by a Minor - California Business and Professions Code 25662 B&P
Any other felony or misdemeanor
Depending on the severity of the juvenile offense, there are several punishments that can be imposed by a juvenile court judge in Pasadena. A minor can be placed on probation with intensive conditions and restrictions, sentenced to a probation camp for juvenile offenders, sentenced to juvenile hall, and in some cases can even be tried as an adult and ultimately sentenced to prison.
Juveniles can only be charged as adults for felony-level offenses. This is typically only done with the most serious felony offenses or when the juvenile has a lengthy criminal record. If charged and found guilty as an adult, a juvenile offender can be sentenced to prison at the California Youth Authority ("CYA") where he or she would remain until turning 25. At that point, he or she would be transferred to an adult prison facility to serve the remainder of the sentence.
When deciding whether to file charges against a juvenile in adult court, a prosecutor will consider a variety of factors, including the following:
The severity of the underlying criminal offense and whether or not it was carried out or merely attempted.
The level of sophistication and criminal behavior exhibited by the juvenile in committing the criminal offense.
The likelihood that rehabilitation would be effective as opposed to simply punishing and restraining the offender.
Whether or not the juvenile offender has a lengthy juvenile record of committing crimes.
There are many ways that an effective Pasadena criminal defense lawyer can fight juvenile charges. The minor in question may have simply been at the wrong place at the wrong time, or may have been in a large group where another minor committed the offense and is now falsely accused. Often, the early involvement of a Pasadena criminal defense attorney can prevent a criminal filing altogether. Juvenile cases are unique because they can be dismissed at all stages of juvenile proceedings by the police officer, juvenile intake officer, prosecutor or judge. In addition, there are various alternative sentencing options available to juveniles that may be appropriate and acceptable to prosecutors and juvenile judges, and an effective attorney can help explore and promote these options.
If a child or relative has been charged with a juvenile offense in the Pasadena area, it is critical that you meet with a skilled Pasadena Criminal Defense Lawyer as soon as possible. Pasadena Criminal Defense Lawyer Michael Kraut is a former Deputy District Attorney with over 14 years of prosecutorial experience. Mr. Kraut was previously assigned to prosecute juvenile offenses and also served as a Senior Trial Prosecutor at the Pasadena Courthouse. Mr. Kraut understands the immense amount of stress that juvenile cases can place on entire families and works hard to ensure his juvenile clients receive the best outcome possible.
For more information about Pasadena juvenile offenses, and to schedule your free consultation, contact Pasadena Criminal Defense Attorney Michael Kraut at the Kraut Law Group located at 790 East Colorado Boulevard, 9th Floor, Pasadena, CA 91101. Mr. Kraut can be reached 24/7 at 888-334-6344 or 626-345-1899.