Drunk in Public
California Drunk in Public - Penal Code Section 647(F)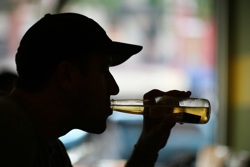 Under California Penal Code Section 647(f), it is a misdemeanor offense to be "drunk in public," meaning that either a person's level of intoxication is so high that they are unable to exercise care for their safety or for the safety of others or their level of intoxication is so high that it interferes with the public's use of a "public way." Often times police arrest someone for this offense if they just think the person is not cooperating with their orders This is sometimes the "catch all" section to arrest someone the police does not like.
To prove a charge under Section 647(f), the prosecutor must be able to establish the following elements: (1) that someone was willfully drunk or under the influence of drugs, (2) that, while under the influence, they were in a public place (3) and during this time they were unable to exercise care for their own safety or the safety of others OR the intoxicated person blocked the public's free movement.
The prosecutor must establish that the defendant was "willfully intoxicated." Thus, people who were unknowingly drugged cannot be prosecuted under this statute. The statute also requires that the activity occur in a "public place." The definition is "public place" is very expansive, but includes cars parked in the street, front porches, and common areas in apartment buildings. However, locations such as private homes, hotel rooms and backyards are considered to be private.
The prosecutor must also prove that an individual was unable to exercise care on behalf of themselves or others or were obstructing a public way. Simply being drunk and in a public place is not enough to justify a criminal charge of drunk in public under California Penal Code Section 647(f). There must be an additional element that demonstrates the intoxicated individual is a safety risk to themselves or others or is obstructing people's free movements. Examples of situations that would satisfy the statutory requirements are an intoxicated person belligerently trying to pick fights after bar close with strangers passing by or someone passed out in the street, blocking the flow of pedestrian traffic.
Drunk in Public under Penal Code Section 647(f) is a misdemeanor offense. If convicted, someone could face up to three years of summary probation, up to six months in county jail and a maximum court fine of $1,000. If someone is convicted of three violations of Section 647(f) in a twelve-month period, there is a minimum 90-day jail sentence. However, this can jail time can be replaced with 60 days in an alcohol treatment center.
There are many effective ways to challenge a 647(f) charge. If the location was not public or if there is not enough evidence to show intoxication, there is no probable cause to support a charge of drunk in public pursuant to the statute.
Prosecutors are sometimes willing to offer informal diversion programs to individuals without criminal records who are charged with violating Penal Code Section 647(f). This gives offenders a chance to keep their records' clean.
If you charged with drunk in public under Penal Code Section 647(f), it is imperative that you have a skilled and knowledgeable defense attorney on your side to explore the variety of defenses and options available. As a former Deputy District Attorney, Michael Kraut has handled cases of this nature from both sides, and is extremely adept at providing the most effective defense possible.
For more information about the various ways to handle a Drunk in Public charge, and to schedule your free consultation, contact Michael Kraut at the Kraut Law Group. Mr. Kraut can be reached 24/7 at 888-334-6344 or 323-464-6453.
Client Reviews
He gave me the peace of mind that my DUI case was going to be resolved. He fought for what it was needed and helped me by answering all my questions. Mike is not an average attorney. He's a very experienced, honest and straightforward person that is there for you!
I hired Attorney Mike Kraut and I'm am so happy and grateful that I did! I was arrested for a DUI because my BAC level was over the .08 limit. I ended up getting a wet and reckless instead of a DUI. I still have to do some classes and I'm on probation, but I do not have a DUI on my record. If you have a DUI hire Attorney Kraut, he definitely knows his stuff!
There aren't enough positive words to write about Mike, but let me be clear that this is the only lawyer worth hiring in Los Angeles. Mike is professional, caring, and an absolute champion at winning in court.
Mike Kraut is not a typical lawyer. He is a straightforward person with a true heart and a sympathetic ear. He is also smart and connected and he cares about the people who seek out his help. He got my son out of a jam. He did it quickly and painlessly. I recommend Mike Kraut to anyone that needs his services.
Thank you Mike for helping my son.
Michael Kraut is a rock star lawyer. I was really happy and satisfied with the results I received from Michael and his team. A few months back I was being accused of a serious felony. Mike gave me sound legal advice and worked diligently to clear my name. Mike was great at always keeping me updated and returning calls. Great, great lawyer I cant say enough about this man!
How can I express how relieved and pleased I am with Michael's professional abilities to have my Felony brought down to a misdameanor to a possible dismissal with deferment. With his care my life has been turned around and cannot say how helpful he's been not only in my case but life. He, himself has changed how I view criminal lawyers. Thank you so much Michael!