Glendale Assault & Battery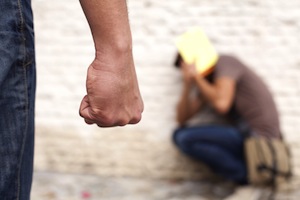 Assault and Battery offenses are considered Violent Crimes in Glendale that may carry substantial penalties for those convicted. Charges of assault and battery are frequently associated with Glendale Domestic Violence allegations.
Although they are often spoken in connection with each other, assault and battery are actually two unique and separate crimes. Battery under California Penal Code Section 242 PC is the act of unwanted physical contact. Assault under California Penal Code Section 240 PC is the act of putting another person in fear of immediate physical contact. Another way to view assault is as an "attempted battery" and battery is a "Completed Assault."
Glendale Assault & Battery offenses may include a variety of crimes, including:
Glendale Assault with a Deadly Weapon (ADW) - California Penal Code Section 245(a)(1) PC
Glendale Battery on a Police Officer - California Penal Code Section 243 PC
Many of the Glendale assault and battery offenses are "wobblers." This means that the district attorney can file the case as either a felony or a misdemeanor, depending on the circumstances of the case, the level of injury if any, and the defendant's criminal history.
The majority of these assault cases have the same elements of the offense. Each one requires that the suspect harmed or tried to harm another person without lawful justification.
Those convicted of Glendale assault and battery crimes may face jail or prison sentences, hefty court fines, victim restitution, extensive probation/parole requirements, anger management, counseling, protective orders and restrictions on gun ownership. An assault related conviction can effectively prohibit people from being considered for many jobs and many of these offenses are treated as "strikes" under California's Three Strikes Law. A strike can be used to significantly enhance penalties on any future conviction.
There are several defenses that an effective Glendale Criminal Defense Attorney may raise to counter Assault and Battery allegations. When a person uses force to defend themselves or others, they may have a valid Self Defense claim against any subsequent criminal charges. Many times, people are Falsely Accused of an Assault and Battery offense, especially when the incident arises from a romantic relationship. In these cases, a skilled Glendale defense attorney can expose the false accounts that may have been reported to police. Another defense to Assault and Battery may exist where a person physically harms another while they are unconscious of their actions, such as when they are having a seizure or if they have been unwittingly drugged. In these circumstances, there may be a valid Involuntary Intoxication / Unconsciousness Defense.
If you or someone you know is facing charges for a Glendale Assault and Battery offense, it is critical that you speak with a knowledgeable and experienced Glendale Criminal Defense Attorney right away. Glendale Criminal Defense Attorney Michael Kraut is a former Deputy District Attorney with over 14 years of prosecutorial experience who is highly adept at defending people charged with assault and battery crimes. Mr. Kraut is well-known and highly respected by the prosecutors and law enforcement personnel operating out of the Glendale Courthouse and has established himself as a fierce defender of his clients' rights.
For more information about Glendale assault and battery Offenses, and to schedule your free consultation, contact Glendale Criminal Defense Attorney Michael Kraut at the Kraut Law Group located at 121 W Lexington Dr, Glendale, CA 91203. Mr. Kraut can be reached 24/7 at 888-334-6344 or 818-507-9123.