Glendale Burglary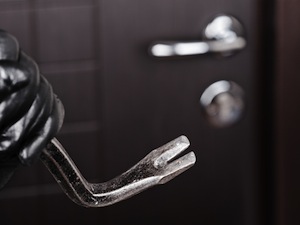 Burglary in Glendale is a frequently-filed criminal charge that can cover a wide range of criminal behavior. While the crime of burglary pursuant to California Penal Code Section 459 PC is often thought of in the same context as Glendale theft crimes, it actually involves unlawfully entering another building, home or vehicle with the intent to commit any felony or petty theft offense.
First degree burglary is charged when the building in question is residential in nature. This is a felony that can result in serious prison sentences for those convicted. When the structure entered is not someone's home or living space, but instead is a store, office, bank or museum, for example, then this offense is considered commercial burglary which is also called second degree burglary. In Glendale, second degree burglary is what is commonly referred to as a "wobbler" offense. This means that the case can be filed as either a felony or misdemeanor offense, depending on factors such as the nature of the underlying crime, the value of items stolen or whether or not the defendant was successful in completing the underlying crime. It is usually the case that misdemeanor charges are filed when the underlying offense is a petty theft (i.e. entering a store with the intent to shoplift).
It is important to remember that the underlying offense alleged in a burglary case does not actually need to occur for someone to be criminally liable for burglary. A prosecutor only needs to prove that a defendant entered the building or structure with the intent to commit the underlying felony or petty theft offense. This is what is called a "specific intent" crime, as it requires that the defendant had a particular state of mind when he or she committed the offense. As a result, if there is no evidence that can show what the defendant's intent actually was, the prosecutor may have difficulty proving a Glendale burglary charge. It is often the case that burglary criminal charges are proven via circumstantial evidence, such as possession of certain tools or relying on the fact that a defendant entered a store without the means to pay for items, and thus intended to shoplift. This type of evidence can be effectively attacked by an effective Glendale criminal defense attorney.
A person charged with burglary in Glendale may be able to raise several valid defenses, depending on the particular circumstances of his or her situation. Of course, if it can be shown that the owner of the property consented to a defendant's entry, that defendant would not be criminally liable for a burglary offense. This defense is not valid if the owner only consented to entry as a result of a ruse or trick perpetrated by the defendant.
There are instances where a mistake of fact defense can be appropriately raised to contest a burglary charge in Glendale. When a person has a reasonable and legitimate belief in a claim of right to property and then enters a building to retrieve it, that person would not be criminally liable for burglary if it turned out the property was not his. For example, a man is missing his lawnmower and sees the exact same model in his neighbor's yard. The man enters the yard and takes the mower, thinking it is his. This man does not have the requisite criminal intent to be charged with burglary.
There also may be situations in which a defendant is unable to form the required specific intent because he or she was intoxicated and did not realize the extent of their actions. It is important to note that this defense is only applicable when the defendant was drugged or was exposed to some other form of involuntary intoxication. If the defendant was voluntarily intoxicated, he or she could not rely on this defense.
If you or a loved one are being investigated for burglary in Glendale, it is critical that you meet with an experienced Glendale Criminal Defense Lawyer right away. Glendale Criminal Defense Attorney Michael Kraut is a former Deputy District Attorney with over 14 years of prosecutorial experience who knows how to effectively defend clients charged with burglary. Mr. Kraut is highly regarded in Glendale as a top attorney who works hard to ensure his clients receive the best defense possible.
For more information about Glendale burglary offenses, and to schedule your free consultation, contact Glendale Criminal Defense Attorney Michael Kraut at the Kraut Law Group located at 121 W Lexington Dr, Glendale, CA 91203. Mr. Kraut can be reached 24/7 at 888-334-6344 or 818-507-9123.