California Penal Code Section 459 PC: Burglary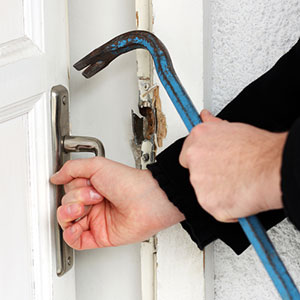 1. Definition and Elements of the Crime
People often associate the crime of burglary with theft, however under California Penal Code Section 459 PC, burglary can involve entering a building, home or vehicle with the intent to commit any felony.
When burglary involves entering a home, hotel room or any other place where people live, the defendant can be charged with first degree burglary (commonly referred to as "residential burglary") which is always a felony. If the defendant entered a commercial building with intent to commit a felony, he or she would face charges of second degree burglary (also called "commercial burglary") which is a "wobbler" that can be charged as either a felony or a misdemeanor.
The crime of burglary under California Penal Code Section 459 PC requires a prosecutor to prove the following elements:
The defendant entered a building, room within a building or locked vehicle AND
When he or she entered into the building, room or vehicle, he or she intended to commit theft or a felony.
A person is considered to have entered a building if some part of his or her body, or some object they are using, penetrates the area inside the building's outer boundary, which can include the area inside a window screen or an attached second-floor boundary.
A building has been defined for the purposes of the burglary statute very broadly by courts and can include telephone booths, popcorn stands on wheels, a wire chicken coop and a loading dock enclosed by chain link fence.
The defendant does not need to actually commit the underlying theft or felony to be guilty of burglary.
For the burglary statute to apply to an automobile, there must be evidence of forced entry into a locked vehicle. Simply entering an unlocked vehicle would not be enough to violate the burglary statute.
2. Related Offenses
Similar offenses include the following:
Possession of Burglary Tools - California Penal Code Section 466 PC
Trespassing - California Penal Code Section 602 PC
3. Examples
A man sneaks into a woman's house late at night by climbing through an unlocked window in order to rape her. Once inside the woman wakes up and screams. The man gets startled and runs away, but he is quickly picked up by police. The man could be charged with residential burglary even though he never committed the underlying felony offense. Simply entering the residence with the intent to rape is enough to violate the burglary statute.
In another example, a man sees a wallet lying on the seat of idling car. The door to the car is unlocked, and the man opens the door in order to steal the wallet. However, someone sees what he is doing and yells out, which causes the man to run away. The man would not be guilty of burglary, as the statute requires forced entry into a locked vehicle.
4. Defenses to Burglary
Someone accused of burglary may have a valid mistake of fact defense in certain situations, such as where they believe that another person has property that belongs to them and they are simply trying to retrieve their own property. In these circumstances, there would be no burglary crime because there would be no underlying theft or felony offense.
5. Penalties
First degree burglary (residential burglary) is a felony that is punishable by up to six years in prison, substantial fines and a "strike" under California's Three Strikes Law.
Second degree burglary (commercial burglary) is a "wobbler" that can be charged as either a felony or a misdemeanor, depending on the severity of the offense and the defendant's criminal history. If convicted as a felony, a defendant can be imprisoned for up to three years.
In addition, there are certain enhancements that may allow a judge to sentence defendants to additional time in prison. If the defendant is convicted of a felony burglary offense and sent to prison, they can receive an additional year in prison for each prior felony conviction they have on their record. If the victim was vulnerable (over 65, under 14, blind, deaf or disabled), an additional one or two years can be added to the prison sentence. And if a victim suffered great bodily injury as a result of the burglary, an additional three to six years can be tacked on to the defendant's sentence.
6. Criminal Defense for Burglary Cases
If you or someone you know have been charged with burglary, it is very important that you meet with a Los Angeles Criminal Defense Attorney right away to discuss your options. Los Angeles Criminal Defense Attorney Michael Kraut is a former Deputy District Attorney with over 14 years of prosecutorial experienced who previously prosecuted major felonies like burglary. Mr. Kraut is highly experienced at defending cases like this and is highly regarded throughout the court system as passionate advocate who fights hard for his clients.
For more information about burglary charges, and to schedule your free consultation, contact Los Angeles Criminal Defense Attorney Michael Kraut at the Kraut Law Group located at 6255 Sunset Boulevard, Suite 1520, Los Angeles, CA 90028. Mr. Kraut can be reached 24/7 at 888-334-6344 or 323-464-6453.