Burbank Drunk In Public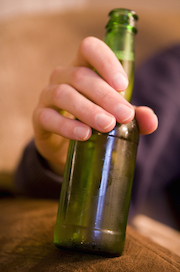 Burbank is known as a popular destination for those looking to have fun at the numerous bars, nightclubs and restaurants located within the city. Whenever alcohol is involved, the Burbank Police Department and other law enforcement agencies active in the Burbank area are especially vigilant for people who may have had too much to drink. These people may risk being charged with drunk in public in violation of California Penal Code Section 647(f) PC.
Drunk in public charges may be appropriate when a person becomes so intoxicated that he or she is unable to look after their own safety or the safety of others. These charges are also applicable when the defendant passes out and blocks a public sidewalk or otherwise interferes with the public's freedom of movement.
While California Penal Code Section 647(f) PC lists specific elements that must be satisfied in order for a defendant to be convicted, this charge is often viewed as a "catch-all" that can justify an arrest or citation when an intoxicated person is not being cooperative with the police. Drunk in public charges may also be applicable when a driver is found passed out in his or her vehicle. The prosecution may be unable to prove that the defendant was driving under the influence in violation of either California Vehicle Code Section 23152(a) VC or California Vehicle Code Section 23152(b) VC, but charges of drunk in public can apply where the car was parked in a public place.
A drunk in public charge would be filed by a prosecutor from the Burbank City Attorney's office. To convict a defendant of this offense, the following elements must be proven beyond a reasonable doubt:
The defendant was willfully drunk or on drugs
While drunk or on drugs, the defendant was in a public place
AND the defendant was so drunk or drugged that he or she could not provide care for himself or look out for the safety of others OR the defendant interfered with a public sidewalk or road or otherwise prevented the public from moving freely.
A defendant must have been willfully intoxicated in order to be convicted of a drunk in public offense in Burbank. This means that the defendant must have intentionally consumed drugs or alcohol and was not unwittingly drugged by someone else.
Courts have broadly defined what can be considered a "public place" in the context of drunk in public violations. Areas that have all been ruled to be public include vehicles that are parked in a public area or on a public street, the common areas of apartment buildings and complexes and a private house's front porch. Courts have held that places that are not public under the statute include hotel rooms, a home's backyard and inside private residences or apartments.
In order to convict a defendant of drunk in public, the Burbank City Attorney must be able to prove something beyond that the defendant was drunk while in a public place. The prosecution must show that defendant's intoxication was at such a high level that he or she could not properly look after himself or herself or posed a public safety threat. In many cases, the defendant will be stumbling into people on the street or may be trying to pick fights with strangers. Drunk in public charges can also be filed in situations where a person passes out in public and blocks a sidewalk or other public route.
A Burbank drunk in public offense is a misdemeanor that is punishable by up to six months in the county jail, extensive fines, attendance of AA meetings and other conditions of probation. A defendant who is convicted of multiple drunk in public violations can be sent to jail for at least 90 days. The judge may commute the mandatory jail if the defendant checks into a 60 day in-patient treatment program.
If you or a loved one have been cited for a Burbank drunk in public offense, it is crucial that you meet with a Burbank Criminal Defense Lawyer right away. Burbank Criminal Defense Lawyer Michael Kraut is a former Deputy District Attorney with over 14 years of prosecutorial experience who is highly skilled at defending those charged with alcohol related offenses.
For more information about Burbank drunk in public offenses, and to schedule your free consultation, contact Burbank Criminal Defense Attorney Michael Kraut at the Kraut Law Group located at 2600 West Olive Avenue, 5th Floor, Burbank, CA 91505. Mr. Kraut can be reached 24/7 at 818-563-9810.