Pasadena Prostitution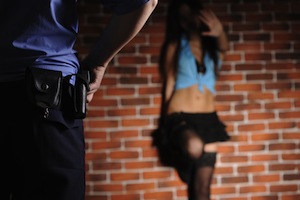 Pasadena prostitution offenses can be filed under California Penal Code Section 647(b) PC against both the prostitute offering sexual services for money as well as the customer who solicits a prostitute.
In order to establish that a defendant has engaged in prostitution, a Deputy City Attorney from the Pasadena City Attorney's Office must be able to prove that:
The defendant intentionally engaged in sexual intercourse or what is considered a lewd act with another person in exchange for money or another form of compensation
When a defendant is charged with soliciting prostitution, the following elements must be proven beyond a reasonable doubt:
The defendant made a request for someone else to engage in an act of prostitution


The defendant did this with the intent to engage in the requested act of prostitution with that other person


And the other person actually heard the request made by the defendant.
Under the law, a "lewd act" is considered the touching of genitals, buttocks or the female breast of either the prostitute or the customer with a body part of the other person with the express purpose of sexual arousal or gratification for either party.
Law enforcement agencies in and around Pasadena often perform sting operations intended to ensnare both those offering prostitution services as well as those seeking to hire prostitutes. Officers from the Pasadena Police Department, the Los Angeles County Sheriff's Department and all other agencies operating in the Pasadena region will have officers pose as prostitutes in order to ensnare johns. In addition, officers may also place fake ads online and pose as people looking to hire prostitutes to catch those engaging in or attempting to engage in prostitution.
During these sting operations, the undercover officer may become too aggressive in trying to induce the target of the sting to commit a prostitution offense. In these circumstances, a defendant may be able to raise an entrapment defense if charged criminally.
If convicted of a Pasadena prostitution offense, a first time offender can be sentenced to serve up to six months in jail in addition to costly court fines. A judge may impose other conditions of probation and may require that the defendant take an AIDS test. For many first time offenders, a diversion program may be available that would save the defendant from a criminal conviction.
Those convicted of a prostitution offense who have a prior conviction under California Penal Code Section 647(b) PC on their criminal record must be sentenced to serve a minimum of 45 days in the county jail. For defendants who have two prior prostitution convictions, the defendant must spend a minimum of 90 days in jail. If the prostitution offense occurred in a vehicle within 1,000 miles of a residence, the judge can also order that the defendant's driver's license be suspended for up to 30 days. In lieu of the 30 day suspension, the court can restrict the defendant's driving privileges so that they can only drive to and from their place of employment and can only drive for employment-related purposes.
There are several other prostitution offenses that someone can be charged with in Pasadena. For those who are accused of promoting prostitution and acting as a pimp, felony charges of pimping and pandering under California Penal Code Section 266h and 266i PC can be filed. Those convicted can be sentenced to up to six years in prison. In addition, someone aiding a prostitution crime can be charged with the misdemeanor offense of supervising or aiding a prostitute in violation of California Penal Code Section 653.23 PC.
If you have been charged with a prostitution offense in Pasadena, it is absolutely crucial that you go over your case with a Pasadena Criminal Defense Lawyer as soon as possible. Pasadena Criminal Defense Attorney Michael Kraut is a former Deputy District Attorney with over 14 years of prosecutorial experience who knows how to effectively defend those charged with offenses like this. Mr. Kraut understands the embarrassing nature of these types of offenses and can make court appearances on his clients' behalf so they would not have to personally appear in court. Mr. Kraut is highly respected in Pasadena as a smart litigator who possesses a detailed knowledge of the law.
For more information about Pasadena prostitution offenses, and to schedule your free consultation, contact Pasadena Criminal Defense Attorney Michael Kraut at the Kraut Law Group located at 790 East Colorado Boulevard, 9th Floor, Pasadena, CA 91101. Mr. Kraut can be reached 24/7 at 626-345-1899.