Cycling Under The Influence (CUI)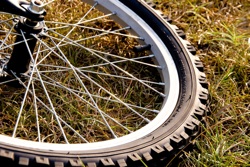 While most people know that driving under the influence of alcohol or drugs is illegal, many do not realize that riding a bicycle while under the influence is also a crime. California Vehicle Code Section 21200.5 prohibits Cycling Under the Influence ("CUI"). The punishment for CUI is a maximum fine of $250 and no jail time. However, this offense is still a misdemeanor that would appear as a conviction on a person's criminal record. Additionally, a conviction for CUI could result in a court-imposed driver's license suspension of one year for people under the age of 21.
To prove a charge of CUI pursuant to California Vehicle Code § 21200.5, the prosecutor must establish that the defendant was riding a bicycle on a "highway," and was under the influence of alcohol, drugs or both at the time they were cycling.
The statute defines bicycle as any device "propelled exclusively by human power through a belt, chain, or gears, and having one or more wheels." Therefore anything vehicle with a motor cannot be considered a bicycle for the purposes of the California Vehicle Code § 21200.5. A motorized bicycle, i.e. a moped, is subject to the usual DUI laws pursuant to California Vehicle Code § 23152. However operating a motorized scooter (i.e. a scooter without a combustion engine) while intoxicated falls under its own statute, California Vehicle Code § 21221.5.
The term "highway" applies to any public road within the state, not merely the freeway as the term may imply. This includes sidewalks as well. The only roads not considered "highways" pursuant to the statute are private roads and driveways.
One of the critical differences between Cycling Under the Influence and Driving Under the Influence is that cycling does not have a proscribed blood alcohol level that presumes someone is the influence. In DUI cases, this blood alcohol level is .08. When an individual is arrested for CUI, they can request a chemical test to determine the amount of alcohol or drugs in their system, if any.
There are a number of ways to contest a charge of CUI pursuant to California Vehicle Code § 21200.5. Like DUI cases, the arresting officer must have probable cause to stop the cyclist. Unlike driving, erratic cycling behavior is much more common and can easily be explained by road or weather conditions or other obstacles. The officer's justification for stopping and arresting a cyclist can be challenged the same as if the arrest was made on a driver of a motor vehicle
Because of many options and defenses available to someone charged with driving in Cycling Under the Influence in violation of California Vehicle Code § 21200.5, it is imperative to have a skilled defense attorney on your side. Michael Kraut is a former deputy district attorney who will is skilled at mounting effective defenses to charges of this nature. His hard work on behalf of his clients has led to cases being thrown out or charges being significantly reduced.
For more information about Cycling Under the Influence, and to schedule your free consultation, contact Los Angeles Criminal Defense Attorney Michael Kraut at the Kraut Law Group. Mr. Kraut can be reached 24/7 at 888-334-6344 or 323-464-6453.