Glendale Receiving Stolen Property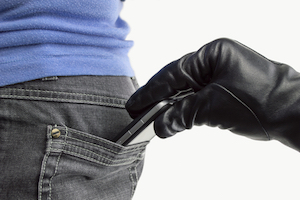 There are several different Glendale theft charges that a prosecutor can pursue depending on the circumstances. When one typically thinks about criminal liability for theft offenses, it is easy to focus on the person who physically takes away property. However under California Penal Code Section 496 PC a defendant can be arrested and charged for simply receiving stolen property.
Receiving stolen property charges are often very popular with prosecutors when going after a defendant for theft. When the defendant is caught with stolen property but the prosecutor cannot prove beyond a reasonable doubt that the defendant actually took it, the prosecutor may be able to secure a conviction on a theory of receiving stolen property.
The following elements would have to be proven beyond a reasonable doubt in order for a defendant to be convicted of receiving stolen property:
The defendant was in possession of property that was unlawfully taken from another person, or the defendant otherwise purchased, received, took or concealed this property


AND the defendant had full knowledge that the property in questions was stolen.
A charge of receiving stolen property is often closely associated with the following theft offenses:





It is often the case that a charge of receiving stolen property in Glendale will be submitted by a prosecutor in circumstances where the defendant has knowingly bought stolen items. Police and prosecutors may grow suspicious when the purchase price for the stolen item is unusually low. This may indicate that the buyer realized that the property was stolen. Anyone who is offered goods for sale in a non-traditional setting at a price too good to be true may want to think twice before purchasing these items, as buying these goods may result in criminal charges.
When a defendant has been charged with a theft offense in Glendale, the prosecution may file a count alleging the theft in addition to a count alleging receiving stolen property. This allows the prosecutor to argue two different theories of guilt to the judge or jury. In these situations, a person can only be punished for one of these two offenses. Under California Penal Code Section 654 PC, punishment can only be assessed once for any individual piece of property that is stolen.
If the defendant unknowingly receives stolen property or purchases property without knowing or having reason to know that it was stolen, he or she would not be guilty of a Glendale receiving stolen property offense. This may be the case where a person purchases an item that he or she sees in an online ad in good faith and the item subsequently turns out to be stolen.
Prosecutors and law enforcement take receiving stolen property crimes very seriously and those accused of this offense can potentially face felony charges. Under the recently adopted Proposition 47, receiving stolen property charges will be filed as misdemeanors in cases where the stolen property does not have a value in excess of $950. In these cases, a judge can sentence the defendant to serve up to six months in the county jail upon conviction. The judge will also order the defendant to pay full restitution to the victim. When the property stolen has a value in excess of $950, receiving stolen property is what is known as a "wobbler" offense. This means that a prosecutor can elect to file either felony or misdemeanor charges against the defendant. Prosecutors will review the underlying facts of the case as well as the defendant's criminal history before making a filling decision. If felony charges are filed, a defendant who is convicted can be sentenced to serve up to three years in prison.
If you have been accused of receiving stolen property, it is very important that you consult with a Glendale Criminal Defense Lawyer immediately. Glendale Criminal Defense Attorney Michael Kraut is a former Deputy District Attorney with over 14 years of prosecutorial experience who is highly experienced at defending those accused of a wide range of theft crimes.
For more information about Glendale receiving stolen property, and to schedule your free consultation, contact Glendale Criminal Defense Lawyer Michael Kraut at the Kraut Law Group located at 121 W Lexington Dr, Glendale, CA 91203. Mr. Kraut can be reached 24/7 at 818-507-9123.