Glendale Embezzlement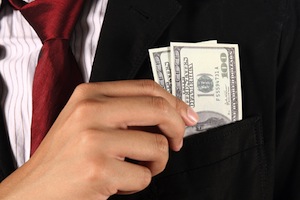 One of the most prevalent Glendale white collar crimes is the crime of embezzlement per California Penal Code Section 503 PC. Embezzlement is a Glendale theft crime that may be charged in connection with allegations of petty theft per California Penal Code Section 484 PC or grand theft pursuant to California Penal Code Section 487 PC, depending on the value of the money or property misappropriated.
Embezzlement is also widely called employee theft because in the majority of cases it involves the theft of funds or property committed by an employee who has been placed in a position of trust or who has access to accounts, cash supplies or company credit cards. Embezzlement in Glendale occurs when a person who has been placed by another in a position of trust steals or misappropriates money or property that was entrusted to them. In many cases, professionals such as accountants, bookkeepers, bankers and others are accused of embezzlement offenses.
To prove a charge of embezzlement pursuant to California Penal Code Section 503 PC, a prosecutor must be able to prove the following elements beyond a reasonable doubt:
An owner of property entrusted that property to the defendant
The owner did this because he or she trusted that defendant
After receiving the property, the defendant fraudulently converted the property or used it for his or her own benefit
AND when the defendant did this, he or she intended to deprive the owner of the property's use.
Simply being charged with embezzlement in Glendale can upend a person's professional reputation and personal life. Being convicted of this offense can prove even more disastrous, as this is the type of conviction that can be toxic to future employers, landlords or anyone else conducting a criminal background check. Those whose jobs require professional licenses may lose their state accreditation and thus their ability to work in their professional field.
When an act of embezzlement is committed by a government employee at the state, county, city or municipal level, the embezzlement offense is charged under California Penal Code Section 504 PC. Courts and prosecutors tend to come down hard on those who abuse the public trust by committing embezzlement crimes.
Prosecutors from the Glendale Area Office of the Los Angeles County District Attorney's Office can pursue embezzlement charges as either felonies or misdemeanors, usually depending on the value of property stolen. If the theft was greater than $950, charges of grand theft in violation of California Penal Code Section 487 PC can be brought against the defendant. If the theft totaled $950 or less, the defendant can be charged with petty theft in violation of California Penal Code Section 484 PC.
The crime of grand theft is what is known as a "wobbler" that can be charged as either a felony or a misdemeanor. When making a filing decision, a prosecutor would take into consideration factors such as the defendant's prior criminal record, if any, the amount of theft involved and other pertinent facts. If charged as a felony, the arraignment would be held at the Glendale Courthouse at 600 East Broadway, Glendale, CA 91205 and all subsequent hearings would then move to the Burbank Courthouse located at 300 East Olive Avenue, Burbank, CA 91502. If charged as a misdemeanor, the case would be assigned permanently to the Glendale Courthouse. If convicted of felony grand theft, a defendant can be sent to prison for up to three years. If convicted of grand theft as a misdemeanor, the maximum sentence a judge could impose is one year in jail. In either case, the defendant would be expected to pay back the amount embezzled as victim restitution.
If charged with a Glendale petty theft offense, the matter would be a misdemeanor that would be handled out of the Glendale Courthouse. Upon conviction, a defendant can be sent to jail for up to a year, may have to complete theft counseling classes, would have to pay fines and restitution and abide by any other conditions of probation that a judge may impose.
If you have been charged with embezzlement in the Glendale area, it is important that you speak with a qualified Glendale Criminal Defense Lawyer right away. As a former Deputy District Attorney with over 14 years of prosecutorial experience, Glendale Criminal Defense Attorney Michael Kraut has extensive experience in both prosecuting and defending embezzlement cases. Mr. Kraut is highly respected in Glendale as the top-rated attorney who has what it takes to best defend those charged with embezzlement.
For more information about Glendale embezzlement offenses, and to schedule your free consultation, contact Glendale Criminal Defense Lawyer Michael Kraut at the Kraut Law Group located at 121 W Lexington Dr, Glendale, CA 91203. Mr. Kraut can be reached 24/7 at 888-334-6344 or 818-507-9123.