Glendale Extortion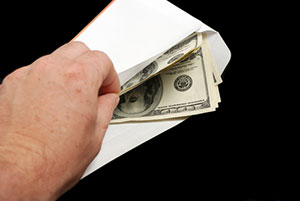 Glendale extortion crimes are serious offenses that can carry hefty penalties for those convicted. Also commonly called "blackmail," the crime of extortion involves inducing another person to do something or provide money or property by using violence, or threats to commit violence or to reveal an embarrassing or harmful secret. Extortion is a felony pursuant to California Penal Code Section 518 PC and is generally classified as a Glendale theft offense. Those who are convicted of this crime may be sentenced to serve lengthy prison sentences.
A prosecutor would have to establish the following factors in order to convict a defendant of a Glendale extortion offense:
The defendant made a threat to hurt the victim or threatened to reveal the victim's secret or accused the victim of committing a crime.


The reason the defendant did this was to induce the victim into paying the defendant, relinquishing property or performing an official act.


AND the victim actually conceded to the defendant's request because of the threat made or the force used.
If the defendant made threats to perform a legal act that she or he was lawfully entitled to do, there would be no criminal liability under the statute. Thus, a repo man cannot be charged with extortion for threatening to take away someone's car unless they make an immediate payment.
It is often the case that an extortion charge involves a defendant who has made a threat to reveal someone else's secret unless the other person agrees to give the defendant money, property or to do an official act. In this context, a secret is defined as a fact that is not generally known to the public or to a third party who would have an interest in discovering the secret. The secret must be of the variety that would hurt the other person's reputation or would cause similar issues for the other person so that it would induce them to comply with the defendant's demands in order to keep the secret safe. In many cases, the secret may involve a defendant's romantic affair, drug use or other illicit activity.
Where the extortion demand is made in writing, the defendant making the demand can be charged with extortion by threatening letter pursuant to California Penal Code Section 523 PC. A charge of extortion of signature in violation of California Penal Code Section 522 PC may be filed where the defendant demands that the victim sign a check, contract or other official document.
A person who has been charged with a Glendale extortion offense may be able to argue one of several legal defenses in fighting his or her case. In many instances, the investigation may be based on a false accusation made by the purported victim. If this is the case, an experienced Glendale criminal defense attorney may be able to investigate and challenge the credibility of the accuser to show law enforcement or the prosecutor why the evidence is unreliable. In addition, if it can be shown that the money would have been provided or the official act would have occurred anyways and was not prompted by a threat or use of force, the defendant charged with extortion would not be criminally liable under the statute.
Under California Penal Code Section 518 PC, Glendale extortion is a felony and those who are convicted can be sentenced to prison for up to three years. Where the defendant makes an extortion demand but the victim does comply with what is asked, the defendant would be guilty of attempted extortion. Attempted extortion is a "wobbler" offense that a District Attorney can file as either a felony or a misdemeanor. If misdemeanor charges are filed, the maximum potential sentence is a year in jail. If filed as a felony, the defendant could be sent to prison for a period of three years.
If you have been accused of or charged with an extortion crime or if you are the victim of an ongoing extortion scheme, it is critical that you discuss your situation with a Glendale Criminal Defense Lawyer as soon as possible. Glendale Criminal Defense Attorney Michael Kraut is a former Deputy District Attorney with over 14 years of prosecutorial experience who knows how to deal with white collar crimes like extortion.
For more information about Glendale extortion offenses, and to schedule your free consultation, contact Glendale Criminal Defense Lawyer Michael Kraut at the Kraut Criminal & DUI Lawyers located at 121 W Lexington Dr, Glendale, CA 91203. Mr. Kraut can be reached 24/7 at 818-507-9123.