Glendale Elder Abuse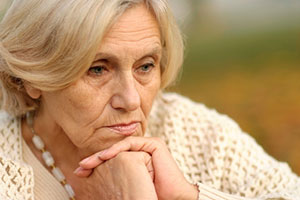 The crime of elder abuse in Glendale involves various criminal acts in which the victim is considered vulnerable because of his or her advanced age. The crimes can include physical abuse, mental abuse, negligent care, sexual abuse and financial crimes committed against people who are over the age of 65. Under California Penal Code Section 368 PC, elder abuse is a serious offense that carries significant penalties for those convicted.
The following list is a sample of the types of crimes that can be the basis of an elder abuse charge in Glendale:
Assault/Battery on an Elder – The law recognizes that Glendale assault and battery offenses are more serious when the victim is a person who is 65 or older, because these people may be physically vulnerable to attacks and more likely to suffer serious injuries when physically abused. These cases often arise with workers at senior care facilities who are accused of hitting or striking their elderly wards. In other cases, the defendant may be an elderly person's own children who are accused of committing the physical abuse.


Emotional Abuse– Emotional abuse against an elderly victim can involve berating, humiliating or causing an elderly person to suffer other forms of emotional abuse. Such abuse can be debilitating to people who already may be physically and mentally frail and is considered a criminal act under the law.


Neglect – Charges of elder abuse via neglect usually are brought against senior care facility workers or administrators who fail to provide adequate medical attention, shelter, food or other necessities to elderly individuals who they have a duty to care for. In some cases, family members who have accepted this role of caregiver can be charged with elder abuse.


Financial Abuse – Understanding that the elderly may be vulnerable to certain financial crimes such as embezzlement and theft, such crimes committed against those who are 65 and older are considered a form of elder abuse.


Sexual Abuse – Any time that a sex crime involves an elderly victim, elder abuse charges may be appropriate in addition to charges for the underlying offense.
There are different defenses that may be available to someone charged with elder abuse in Glendale. It is often the case that when an elderly person suffers from senility or the effects of Alzheimer's disease, they are prone to make outrageous claims about people near them. As a result, in certain cases one may find himself or herself falsely accused of elder abuse. In these cases, an effective Glendale criminal defense attorney can undermine the false allegation in order to defend his client.
It is also often the case that people of an advanced age are more fragile and can be seriously injured from very minor accidents. In these cases, a Glendale criminal defense attorney can advance a valid accident defense on behalf of a client charged with elder abuse. However, it is important to keep in mind that even if injuries occurred unintentionally, a person can still be charged with elder abuse by neglect if they did not exercise reasonable caution in dealing with someone for whom they are obligated to provide care.
Elder abuse in Glendale is a "wobbler" offense that can be charged as either a felony or a misdemeanor. In making any filing decision, a prosecutor from the Glendale Branch Office of the Los Angeles County District Attorney's Office will consider factors such as the type of abuse and its severity, the age and condition of the victim and the defendant's criminal history. If filed as a felony, the defendant can face up to four years in prison if convicted, with an additional consecutive three years sentence if the elder abuse resulted in great bodily injury or death to the victim. If filed as a misdemeanor, the potential sentence can include a year in jail, extensive fines and fees, victim restitution, court imposed counseling and/or educational sessions, community service/labor, or any other conditions a judge may feel is appropriate.
If you have been charged with an elder abuse offense in Glendale, it is critical that you discuss your case with a knowledgeable and experienced Glendale criminal defense attorney as soon as possible. Glendale Criminal Defense Attorney Michael Kraut is a former Deputy District Attorney with over 14 years of prosecutorial experience who is highly respected throughout the Glendale legal community as a tough and knowledgeable advocate.
For more information about Glendale elder abuse, and to schedule your free consultation, contact Glendale Criminal Defense Attorney Michael Kraut at the Kraut Law Group located at 121 W Lexington Dr, Glendale, CA 91203. Mr. Kraut can be reached 24/7 at 888-334-6344 or 818-507-9123.