California Penal Code Section 350 PC: Manufacturing Or Selling A Counterfeit Mark
1. Definition and Elements of the Crime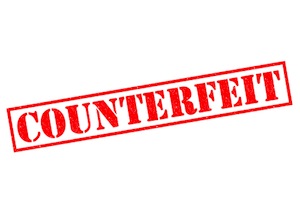 With the high popularity of luxury goods and famous brand names, there exists a large underground market for knock-off products that feature these famous logos and names. However, manufacturing and selling a counterfeit mark is a serious criminal offense under California Penal Code Section 350 PC, and those charged may face felony conviction.
To prove a defendant is guilty of manufacturing or selling a counterfeit mark, a prosecutor must be able to establish the following elements:
The defendant willfully manufactured, intentionally sold, or knowingly possessed for sale any counterfeit of a mark.
The defendant is an individual or a business entity.
AND the mark is one registered with the Secretary of State or on the Principal Registry of the United States Patent and Trademark Office.
Where the offense involves 1,000 or more units of the article and where the retail value of the goods would normally exceed $950, the defendant would face stiffer penalties. Thus those involved in manufacturing or selling fake luxury goods that normally are very expensive can face enhanced punishments.
2. Related Offenses
Other similar or related offenses include:
3. Examples
A man sells inexpensive sunglasses for a living at a mall kiosk. The man wants to make more money so he begins to affix the famous logos and brand names of luxury brands on his stock of sunglasses and sells them at a considerably markup. This man could be prosecuted for manufacturing and selling counterfeit marks in violation of California Penal Code Section 350 PC.
In another example, a woman receives what she thinks is Louis Vuitton purse as a gift from a suitor. The woman decides to sell the purse and posts an online ad with a picture. A man purchases the purse from her and learns that the purse is, in fact, a high quality knock-off. The woman would not be guilty of selling a counterfeit mark if she reasonably believed that the item was genuine.
4. Defenses to Manufacturing or Selling Counterfeit Marks
As described above, there may be instances where the seller of a counterfeit mark has been led to believe that the goods being sold are genuine. In these cases, the seller would have a legitimate mistake of fact defense if charged criminally with manufacturing or selling a counterfeit mark.
5. Penalties
When the offense involves 1,000 items with the counterfeit mark or if the goods have a retail value in excess of $950, manufacturing or selling counterfeit marks is a "wobbler" offense that can be charged as either a felony or a misdemeanor. If charged as a felony, a defendant can be sent to prison for up to three years. If charged as a misdemeanor, the maximum penalty that can be assessed is a year in county jail. Where the value of goods involved is under $950 and there are less than 1,000 units, manufacturing or selling a counterfeit mark is a misdemeanor that is also punishable by up to a year in jail.
If the defendant has a prior conviction for this offense, any subsequent offense can be charged as a felony regardless of the number of units involved or the retail value of the goods.
When the manufacture or sale of goods using a counterfeit mark directly causes death or great bodily injury to another person, this offense is always a felony that is punishable by up to four years in prison.
6. Criminal Defense for Selling or Manufacturing Counterfeit Mark Cases
Police agencies often operate stings to catch people in the act of selling counterfeit products. If you have been arrested or charged with this offense, it is very important that you consult with a knowledgeable Los Angeles Criminal Defense Lawyer right away. Los Angeles Criminal Defense Attorney Michael Kraut is a former Deputy District Attorney with over 14 years of prosecutorial experience who understands how devastating it can be to be charged with a criminal offense like this.
For more information about selling or manufacturing counterfeit marks, and to schedule your free consultation, contact Los Angeles Criminal Defense Lawyer Michael Kraut at the Kraut Law Group located at 6255 Sunset Boulevard, Suite 1520, Los Angeles, CA 90028. Mr. Kraut can be reached 24/7 at 888-334-6344 or 323-464-6453.