California Health and Safety Code Section 11360 HSC: Selling Marijuana
1. Definition and Elements of the Crime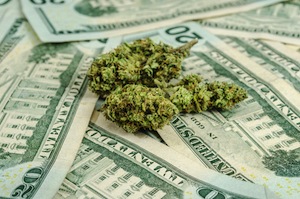 Possessing or purchasing marijuana is an infraction is most cases and those convicted usually face no more than a court fine. However, the same light penalties do not apply to those convicted of selling marijuana. Under California Health & Safety Code Section 11360 HSC, the act of selling marijuana is a serious felony that can result in lengthy prison sentences for those convicted.
In order to prove a defendant is guilty of selling marijuana, the following elements must be present:
The defendant sold, furnished, administered or imported into California a controlled substance
The defendant knew of its presence
The defendant knew of the substance's nature or character as a controlled substance
The controlled substance was marijuana
AND the controlled substance was in a usable amount
In addition, a defendant can be prosecuted under California Health & Safety Code Section 11360 HSC for offering to sell marijuana. In order to prove a defendant offered to sell marijuana, a prosecutor must be able to establish the following elements:
The defendant offered to sell, furnish, administer or import into California marijuana, a controlled substance
AND when the defendant made the offer, he or she intended to sell, furnish, administer or import the controlled substance.
A defendant can be convicted of offering to sell marijuana even if there is no evidence that he or she delivered or ever possessed any controlled substance.
2. Related Offenses
Other similar or related offenses include:
3. Examples
A woman approaches man on the street and asks to buy $10 worth of marijuana. Both are unaware that they are under police surveillance. The man makes the sale and both the man and the woman are detained by police. While the woman would only be cited for possession of marijuana under California Health & Safety Code Section 11357 HSC, which is an infraction, the man could be charged with a felony offense under California Health & Safety Code Section 11360 HSC.
In another example, a man offers to sell another man a small amount of marijuana. The other man refuses. The first man could still be charged with selling marijuana as a felony pursuant to California Health & Safety Code Section 11360 HSC even though he did not actually complete the sale. Even if he never possessed marijuana, he could still be convicted. The mere act of offering marijuana for sale is sufficient to violate the statute.
4. Defenses to Selling Marijuana
Many of the arrests for selling marijuana stem from sting operations conducted by undercover law enforcement operatives. If the officer became too aggressive in eliciting a marijuana sale, or pushed the defendant to do something that he or she would not normally have done, there may be a strong entrapment defense to a subsequent criminal charge.
5. Penalties
Selling marijuana is always a felony that is punishable by up to four years in prison. However, if the defendant was only transporting or giving away a small amount (28.5 grams or less) of marijuana, the offense is punishable by a $100 court fine.
6. Criminal Defense for Selling Marijuana Cases
In contrast to possessing or using marijuana, selling marijuana is a felony offense that can lead to serious penalties for those convicted, including lengthy prison terms. If you or a loved one have been arrested for or charged with selling marijuana, it is very important that you consult with a knowledgeable Los Angeles Criminal Defense Lawyer as soon as possible. As a former Deputy District Attorney with over 14 years of prosecutorial experience, Los Angeles Criminal Defense Attorney Michael Kraut is highly skilled at representing clients charged with marijuana offenses like this. Mr. Kraut is well-known and highly respected throughout the court system for being a tough litigator who possesses an extensive knowledge of the law.
For more information about selling marijuana and to schedule your free consultation, contact Los Angeles Criminal Defense Lawyer Michael Kraut at the Kraut Law Group located at 6255 Sunset Boulevard, Suite 1520, Los Angeles, CA 90028. Mr. Kraut can be reached 24/7 at 888-334-6344 or 323-464-6453.