California Health and Safety Code Section 11357 HSC: Possession Of Marijuana
1. Definition and Elements of the Crime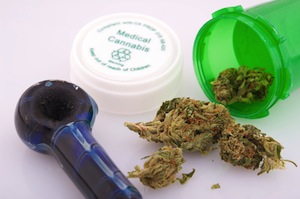 While the restrictions surrounding marijuana use and possession have relaxed in recent years, there are still a variety of marijuana-related offenses that are subject to prosecution in California. Possession of marijuana is still a crime under California Health & Safety Code Section 11357 HSC that can lead to a variety of penalties for those convicted. This statute applies to marijuana in excess of 28.5 grams (1 ounce). Possession of marijuana under this amount is considered an infraction.
In order to prove that a defendant is guilty of possessing marijuana, a prosecutor must be able to establish the following elements:
The defendant unlawfully possessed a controlled substance
The defendant knew of its presence
The defendant knew of the substance's nature or character as a controlled substance
The controlled substance was marijuana
AND the marijuana possessed by the defendant weighed more than 28.5 grams
Marijuana means all or part of the Cannabis sativa L. plant, whether growing or not, including the seeds and resin extracted from any part of the plant. It also includes every compound, manufacture, salt, derivative, mixture or preparation of the plant, its seeds, or resin. It does not include the mature stalks of the plant, fiber produced from the stalks, or oil or cake made from the plants' seeds.
Possession of marijuana is lawful if authorized by the Compassionate Use Act. In order for the Compassionate Use Act to apply, a defendant must produce evidence tending to show that his or her possession or cultivation of marijuana was for personal medical purposes or as the primary caregiver of a patient with a medical need with a physician's recommendation or approval. The amount of marijuana possessed must be reasonably related to the patient's current medical needs.
2. Related Offenses
Similar offenses include the following:
Cultivating Marijuana – California Health & Safety Code Section 11358 HSC
Possession for Sale of Marijuana – California Health & Safety Code Section 11359 HSC
Selling Marijuana – California Health & Safety Code Section 11360 HSC
3. Examples
After being arrested for an unrelated offense, a man is searched by police and a small package containing 30 grams of marijuana is discovered in his backpack. The man does not have a prescription to use marijuana and he is not a caregiver for someone who does. This man could be charged with misdemeanor possession of marijuana in violation of California Health & Safety Code Section 11357 HSC. In a similar example, police discover over 28.5 grams of marijuana while searching a criminal suspect. However, the man has a valid prescription for the marijuana issued by a licensed physician for treatment of back pain. In this situation, the man would not be criminally liable for marijuana possession under the statute.
4. Defenses to Possession of Marijuana
As described, if the defendant possessed a valid prescription for the marijuana pursuant to California's Compassionate Use Act, he or she would not be guilty of possession under California Health & Safety Code Section 11357 HSC. However, this would only apply if the defendant possessed an amount reasonably related to his or her medical needs.
Additionally, if the marijuana was discovered as part of an illegal search and/or seizure, the defendant may be able to challenge the search for lack of probable cause in court. If successful, the judge would suppress the incriminating evidence and the case would most likely be dismissed.
5. Penalties
Possession of 28.5 grams or less of marijuana is an infraction that is punishable by a $100 court fine. Possession of more than 28.5 grams of marijuana is a misdemeanor that is punishable by up to six months in jail and a $500 court fine. If the marijuana is "concentrated cannabis," possession of any amount is a "wobbler" that can be charged as either a felony or a misdemeanor.
6. Criminal Defense for Possession of Marijuana
If you have been charged with possession of marijuana it is important that you meet with a Los Angeles Criminal Defense Attorney right away. As a former Deputy District Attorney with over 14 years of prosecutorial experience, Los Angeles Criminal Defense Attorney Michael Kraut has extensive experience in both prosecuting and defending marijuana offenses. Mr. Kraut is known as a tough litigator who possesses the requisite knowledge and understanding to properly defend drug cases.
For more information about marijuana possession, and to schedule your free consultation, contact Los Angeles Criminal Defense Lawyer Michael Kraut at the Kraut Law Group located at 6255 Sunset Boulevard, Suite 1520, Los Angeles, CA 90028. Mr. Kraut can be reached 24/7 at 888-334-6344 or 323-464-6453.