Burbank Criminal Threats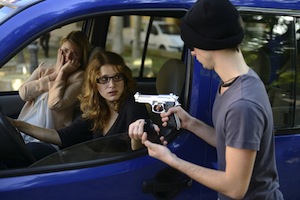 Despite the adage that "sticks and stones may break your bones, but words will never hurt you," making criminal threats in Burbank is a criminal offense that can trigger severe penalties if convicted, even where no physical harm is alleged. Because of the nature of the threat, this offense is considered a violent crime and used to be referred to as "terrorist threats." Criminal threats under California Penal Code Section 422 PC may often be charged in situations involving domestic violence or assault and battery in Burbank, as these cases are often closely connected.
Burbank criminal threats are composed of the following elements, all of which must be proven to be convicted of the offense:
An intentional threat of injury or death made to another person
That is made orally, in written text or electronically
The defendant is not joking and fully intends that his or her threat is taken seriously.
The threat was of one that a reasonable victim would take seriously.
The threat caused fear in the victim
AND this fear is considered objectively reasonable under the circumstances.
A statement is not considered a criminal threat when:
The statement is vague and there is no specific reference to harm
It is unreasonable that someone would have been placed in fear as a result of the statement.
Any fear caused was minor and fleeting
The threat was presented in a manner that was not oral, in writing, or delivered electronically.
Making criminal threats in Burbank is considered a "wobbler" offense that can be filed as either a felony or a misdemeanor. If felony charges are contemplated, a deputy district attorney from the Burbank branch of the Los Angeles County District Attorney's Office will handle the prosecution. If the matter is referred for misdemeanor charges, the Burbank City Attorney's office would prosecute the offense. Elements such as the extent of the threat and the defendant's criminal record will be considered when deciding if felony or misdemeanor charges are appropriate.
A felony-level conviction for criminal threats can be punished by up to four years in prison. The conviction would also be a "strike" under California's Three Strikes Law.
There can be several ways to fight a Burbank criminal threats allegation. If the threat was made orally, there may be no evidence that the crime occurred and the defendant may be the victim of a false accusation which occurs frequently. An effective Burbank criminal defense attorney can spot inconsistencies in the false accusation and help police and prosecutors see how the accuser may have had motive to lie.
If you or someone you know have been charged with making criminal threats in Burbank or are under investigation for this crime, it is very crucial that you speak with a Burbank criminal defense attorney right away. Burbank Criminal Defense Attorney Michael Kraut is a former Deputy District Attorney with over 14 years of prosecutorial experience who was previously assigned to handle felonies at the Burbank Courthouse. Mr. Kraut has earned the respect of judges, prosecutors and police officers in Burbank for his dedication to his clients as well as his thorough knowledge and understanding of the criminal law. Mr. Kraut works tirelessly to ensure his clients receive the best representation possible.
For more information about Burbank criminal threats, and to schedule your free consultation, contact Burbank Criminal Defense Attorney Michael Kraut at the Kraut Law Group located at 2600 West Olive Avenue, 5th Floor, Burbank, CA 91505. Mr. Kraut can be reached 24/7 at 888-334-6344 or 818-563-9810.