Burbank Burglary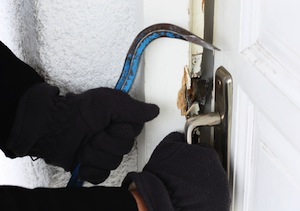 Burglary offenses in Burbank are commonly-filed charges available to prosecutors that may include a range of different criminal activity. Burglary crimes are often synonymous in many people's minds with Burbank theft crimes, however the underlying offense in burglary charges can be any felony or petty theft. Under California Penal Code Section 459 PC, burglary involves the unlawful entry into a dwelling or building with the express intent to commit a crime.
There are two different classes of burglary offenses in Burbank, first and second degree burglary. When the defendant enters a dwelling, home or other structure that is residential, that defendant can be charged with first degree burglary, which is also called residential burglary. First degree burglary is a felony-level offense that would be handled by a Deputy District Attorney from the Burbank Satellite Office of the Los Angeles County District Attorney's Office.
If the burglary allegation involves any other type of non-residential structure, the offense is considered second degree burglary ("commercial burglary") which is a "wobbler" offense. This means that the case can be pursued as either a felony or a misdemeanor, depending on the factual circumstances of the case and the criminal history of the defendant. In cases where the burglary offense involves shoplifting, misdemeanor charges are usually filed. If filed as a misdemeanor, the case would be handled by the Burbank City Attorney's Office.
In order to be convicted of a Burbank burglary offense, one does not need to actually commit the underlying crime. The burglary statute only requires that the defendant enter or break into a building with the intent to commit a felony or a petty theft offense. As such, burglary is considered a specific intent crime, as it requires a specific state of mind on the part of the defendant. Proving someone's state of mind can be tricky and often forces a prosecutor to rely heavily on circumstantial evidence. An example of this would be a person who is caught entering a building while carrying glass-cutters, lock-picks or other tools used to commit a theft.
There are several legal defenses that may be applicable to a defendant charged with a Burbank burglary crime. When a property or building owner consents to the defendant's activity, that defendant cannot be charged with burglary, as the defendant's actions were permitted. This defense would not apply in instances where a defendant gains entry by tricking the owner or otherwise perpetuates a fraud in order to get inside. A defendant also cannot be charged with burglary when he or she is the owner of the property in question.
A mistake of fact defense may apply in certain situations where the defendant had an honest and reasonable belief that he or she had a claim to a property or was allowed entry into a certain property. This defense would apply where a defendant believed he was retrieving his own property from someone else's home or building, or reasonably thought he had permission to enter and take someone else's property. In these cases, the defendant would lack the required specific intent to be charged with burglary.
In addition, because burglary is a specific intent crime that requires that the defendant intentionally enter a structure with the intent to commit a crime, there can be circumstances where a defendant was so intoxicated that he or she was unable to form the required specific intent. If the defendant intentionally or voluntarily became intoxicated, an intoxication defense would not apply. However, if the defendant was drugged or had something slipped into his or her drink, then an involuntary intoxication may be appropriate.
If you or a loved one have been charged with a burglary offense in Burbank, it is crucial that you consult with a knowledgeable and experienced Burbank Criminal Defense Attorney as soon as possible. As a former Deputy District Attorney with over 14 years of prosecutorial experience, Burbank Criminal Defense Lawyer Michael Kraut is highly skilled at fighting allegations of burglary on behalf of his clients. In many cases, Mr. Kraut is able to intervene before any filing decision has been made in order to have charges reduced or even rejected. Mr. Kraut is highly respected throughout Burbank for his mastery of the law and unmatched litigation skills.
For more information about Burbank burglary offenses, and to schedule your free consultation, contact Burbank Criminal Defense Attorney Michael Kraut at the Kraut Law Group located at 2600 West Olive Avenue, 5th Floor, Burbank, CA 91505. Mr. Kraut can be reached 24/7 at 888-334-6344 or 818-563-9810.