Pasadena Extortion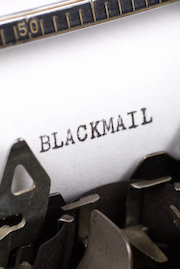 In Pasadena, extortion offenses are considered very serious crimes that can trigger extensive criminal penalties for anyone convicted. Extortion is often commonly referred to as blackmail and involves attempts to have another person do something against their will through the use of threats of violence, force or threats to reveal a secret. Extortion is a Pasadena theft offense that is a felony under California Penal Code Section 518 PC and those convicted can be sentenced to serve lengthy sentences in a California prison facility.
To prove that a defendant is guilty of extortion, a Deputy District Attorney from the Pasadena Branch Office of the Los Angeles County District Attorney's Office must be able to establish that:
The defendant unlawfully threatened to hurt someone else, threatened to accuse someone else of committing a crime or threatened to expose someone's secret.


The defendant did this intending that as a result of the threat or use of force, the victim would then provide money, property, or performance of an official act.


AND the victim actually gave in to the defendant's demands as a result of the threats or forced use.
Threatening to do something that one has a legal right to do does not count as an extortionate threat under the law. This means if a creditor is trying to collect a lawful debt and threatens to repossess the debtor's cars or home unless payment is made, this creditor would not be criminally liable for extortion.
In many Pasadena extortion cases, the crime occurs when the defendant has threatened to reveal a secret of the victim unless the victim pays the defendant or agrees to do something that he or she normally would not be inclined to do. When dealing with an extortion charge, a secret is considered something that is unknown to the general public or to someone who would be interested in learning the secret. This unknown fact would harm the threatened person's reputation or would create other problems so that the victim would be inclined to pay to keep the secret from being revealed.
If the extortionate act is reduced to writing, the defendant would be subject to criminal charges under California Penal Code Section 523 PC for extortion by threatening letter. When the defendant wants the victim to sign a check or any other document, the defendant could be charged with extortion of signature pursuant to California Penal Code Section 522 PC.
Someone charged with an extortion offense may be able to raise a variety of legal defenses to counter the People's allegations. Those charged with a Pasadena extortion crime may be the victim of a false accusation that has been levelled against them. In these situations, a highly skilled Pasadena criminal defense lawyer can challenge the accuser's credibility and formal statement in order to show why the accusation should not be trusted. Additionally, if the defendant can establish that the money, property or official act would have been turned over or completed regardless of any potential threat or use of force, the defendant would not be guilty of this crime.
Extortion under California Penal Code Section 518 PC is a felony level offense. Those convicted can be sentenced by a Superior Court Judge from the Pasadena Courthouse to serve up to three years in prison. Where the defendant has only made an extortionate demand of another person, he or she can be charged with the crime of attempted extortion. This offense is what is known as a "wobbler" that can be filed as either a felony or a misdemeanor. If convicted of a felony, the defendant can be sentenced to up to three years in prison. If convicted as a misdemeanor, the defendant can be sentenced to a year in jail.
If you or a loved one are under investigation for a Pasadena extortion offense or have been charged with this crime, it is crucial that you speak with a Pasadena Criminal Defense Attorney immediately. As a former Deputy District Attorney with over 14 years of prosecutorial experience, Pasadena Criminal Defense Lawyer Michael Kraut is highly skilled at defending those charged with white collar crimes like this. In addition, Mr. Kraut also represents those who are the victims of extortion schemes and who need to find a way out of their current predicament.
For more information about Pasadena extortion offenses, and to schedule your free consultation, contact Pasadena Criminal Defense Attorney Michael Kraut at the Kraut Law Group located at 790 East Colorado Boulevard, 9th Floor, Pasadena, CA 91101. Mr. Kraut can be reached 24/7 at 626-345-1899.